OSE International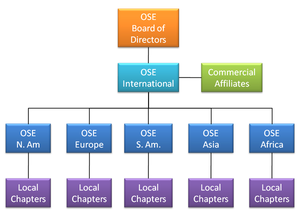 Open Source Ecology, International is a term that can be applied to the over arching, umbrella organization that guides and administers the project from a high level. It grew out of the early work by founder Marcin Jakubowski and is now expanding into a global organization.
The OSE Mission is to:
coordinate collaborative development of tools that enable open access to the best practices of economic production
promote harmony between humans and their natural life support systems
remove material scarcity from determining the course of human relations, globally and locally
create harmonious coexistence between natural and human ecosystems (if we assume these are separate), towards land stewardship, resilience, and improvement of the human condition
pursue the creation of an open society, where everybody's needs are met, and where everybody has access to information, material productivity, and just governance systems - such that human creativity is unleashed, for all peoples.
create replicable, open source, modern, decentralized, resilient communities.
Functions
At a minimum, OSE International has the following functions:
Technical Development of the Global Village Construction Set

GVCS Architecture - product ecology, etc.
Guidance of GVCS Project Managers
Retaining GVCS Subject Matter Experts

Organization Administration

Membership

Recruitment
Oversight of Local Chapters

Oversight of Regional Branches
Requests for Local Chapters
Commercial Affiliates

Requests for Affiliation
Establishing Best Practices
Promotion and Marketing

Fund Raising

True Fans Programs
Charitable Contributions
Grants
Prizes

Resource Administration

Web site
Wiki site
Mailing list
Chat rooms
Others (tbd)
Staff and Positions
Proposed staff positions:
Executive Director
Resource Director
Membership Director
Fund Raising Director
Legal Advisor
Legal Status
OSE International is currently doing business as OSE, Inc, a non-stock corporation in the state of Missouri, USA. See http://opensourceecology.org/corporate-info/
OSE may wish to consider creating an OSE Trust Fund to manage and administer donations, land grants, and other contributions.