Pelletized biomass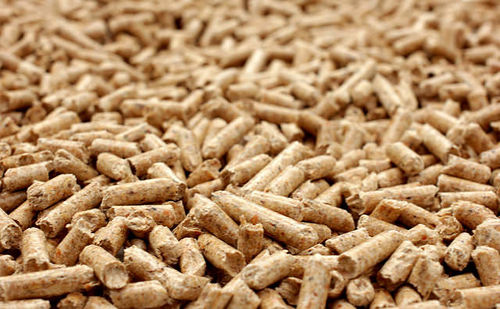 Biomass can be pellitized by first passing it through a Hammer Mill for uniformity, then feeding it to a press that has holes of uniform size. In this process, there is a marked increase in temperature, causing the lignin to plastify. General categories of biomass pellets include: industrial waste and co-products, food waste, agricultural residues, energy crops, and virgin lumber. Wood pellets are the most common type of pellet fuel and are generally made from compacted sawdust.
The regular geometry and small size of fuel pellets allow automatic feeding with very fine calibration. They can be fed to a burner by auger feeding or by pneumatic conveying. Their high density also permits compact storage and transport over long distance.
Torrefaction
Calorific value can be greatly increased by torrefaction. Benefits are: higher energy density, more homogeneous composition, hydrophobic behavior, elimination of biological activity, improved grindability.
Elsewhere on the OSE Wiki
See Also
Image Gallery