3D Printer Website
Design
Eventzilla Posting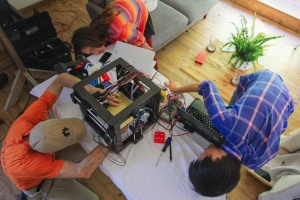 Next Steps
Ebook should probably be a way to catch interest for Design Jams.
Meeting Notes
Build a desktop microfactory, and reinvent local production right in your home town
Accessibility Rules - for best practices on naming websites
Link should be: https://opensourceecology.org/3dp and 3Dp and 3DP
For maintenance purposes - you don't put the folder with a website at the /3dp -
Verify with Michael that /3dp folder is a maintenance nightmare
Thus, use https://3dp.opensourceecology.org as the URL
If the same key opens all doors to a house, is the house any less safe than a house with a single door?
Competitive analysis: Benchmarking + Competitive List Audit
Imade3d.com -
3d4edu.org
Irregular workshops at different hacker- and maker-spaces for internal and external audience
STEAM education - various orgs providing
The Crucible - SF bay area -
Tumbleweed houses
On demand auto fulfillment. Example.
OSE Logo - B&W - for t-shirt and polo shirt
Click buy for a t-shirt or polo shirt - say $18 for a t-shirt, OSE gets $4.73 per shirt at https://inktothepeople.com as an example
Products: kit, XM workshop 1 day build - read the existing 3DP workshop, teachers' or librarian's 2 day training (build day + training), t-shirt, sticker, polo shirt
1 week - basic website.
Phase 1: sign up for a workshop, sign up for a Teacher's Training
Assets
New logo by JB - Sticker for the 3D Printer. And revisit in one year for a 3D printer.
Create a modular logo for different product.
See Kit.com
stocktankpool.net - check their kits for kit model
Narrative
Main
We offer a 3D printers.
We also offer 3D printer builds - in 5 hours!
We also train teachers how to build, maintain, and design printed parts.
But that's where we leave all the others behind...
We offer a turnkey Desktop Microfactory consisting of the 3D Printer, CNC Circuit Mill, Laser Cutter, and 3D Printing Filament maker - which allows you to produce 80% of consumer household goods in any community - starting from recycled plastic.
We offer a modular, scalable Construction Set of machines - so you can build larger or smaller versions depending on your needs and budget.
Once you have the 3D printer - you can print parts for all the other machines - and build your own desktop microfactory from easy-to-source, off the shelf parts.
We are standing on the shoulders of giants, building upon the work of the RepRap 3D printer community, Precious Plastic, Recyclebot, Open Circuit Institute, and Lyman Filament Extruder - and adding our own innovation - to produce a powerful product package.
Our goal is to democratize production and involve everyone in product design all over the world. You may have heard about this idea before - but now we have the open source tools, and we are producing a repository of open designs to make this happen.
We develop public designs via Design Jams - open to the public - and we offer training in 3D printing, CAD design 1 hour FreeCAD crash course, using part libraries, and how to collaborate openly with a large team.
We offer: kits (3DP, CNC circuit mill) - we can drop ship these. Need to refine BOMs - 3DP BOM - D3D_v18.07#BOM and Circuit Mill BOM - D3D_CNC_Circuit_Mill#BOM
We offer registration for workshops. Sign up for initial interest. Once there are 12 people interested at a given location or 1 hour away - we run a workshop
Design Jams - basic narrative
For Teachers
(Imade3D positions themselves as Professional Development opportunity for teachers - -see their site)
We can provide an amazing Professional Development opportunity as you learn to build a 3D printer. We offer 2 day workshops for teachers and librarians, day 1- build - day 2 - operate, maintain, design 3Dd printed parts - all using a fully open source tool chain.
We an also train you do do design useful products - anything from a 3D printed pen, a cordless drill, or a vaccuum cleaner - and to run design contests with your students. This would be similar to First Robotics, but producing real, useful, and marketable products that improve with time and become part of a common human heritage of open design. We will be running these events once per month at Open Source Ecology.
We can teach you how to start a recycling operation in your school - turning waste plastic from your cafeteria to virgin 3D printing filament - for producing new products while cleaning up the environment.
We can offer Professional Development building the 3D Printer, CNC Circuit Mill, Laser Cutter, and Filament Maker today.
Register as a pair - $1400 for a 2 day workshop - you keep one machine that you built during the workshop. $2100 for a 3 day workshop where we teach you how to lead a Design Jam on the 3rd day.
Inquire for further details - or register online. We need a minimum of 4 registrations to run an event - we after you register - we will have to find 3 other
For Everyone
Register for a workshop (nonexisting workshops - we host one when 12 people sign up)
Register for a planned workshop - any one that is already on our schedule. We can add people to Teachers' workshops as well, where people register for 1 day and teachers register for 2 or 3 days
Buy a kit
Buy swag. OSE pen (like 3D Printed Pen, sticker, and t-shirt.
Assets
Google Photos
Wiki
Workshop Announcements
April 29, 2017 workshop announcement - [14]
August 12, 2017 workshop announcement - [15]
Sep 30, 2017 Announcement - [16].
Video
May be useful to play in the background of website?
Links