Israel Log
D3D. D3D Log. Development Team Log. Marcin Log. Timesheet Dev Hangout
OSE Hangout Jitsi Meetup.  OSE Network.

Sat, August 5, 2017
Uploaded Hydraulic Fluid filter
Sat, July 29, 2017
Finished the CEB Top Plate assembly, had to redraw the front and rear plates due to having omitted the rod holes after confusion of proper procedure for working with dxf imports. Holes now properly placed. Uploaded the CEB Top Plate Assembly as dxf. There seems to be confusion about importing/exporting dxf to/from FreeCAD still. I followed the steps outlined in Abe's log and that didn't seem to work for me. I think the steps below worked.
Using FreeCAD 0.16, with Draft Workbench selected:
Goto "Edit > Preferences > Import/Export"
Find "Export options" under DXF tab
Verify "Export 3D objects as polyface meshes" is checked.
Still not sure if this is a proper DXF export, but it did open up as a proper looking 3D model in FreeCAD, as opposed to previous exports and procedures which only showed up as flattened 3d drawings, it was a mess.
Added Top Plate Assembly to
- The list of Updated CNC Cut Files
- The CEB Press Part Library
Wed, July 12, 2017
Uploaded an exposed thermocouple for use on LFX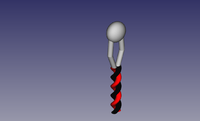 Wed, July 05, 2017
Heat Band now complete.
Mon, July 03, 2017
Started looking through details about the thermal components for the Lyman_Filament_Extruder
Uploaded the barebones Heat Band no wires or clamp yet.
Wed, June 28, 2017
Updated CNC Torch Table with Z axes, removed the doubled up carriage on the X axes, and shortened the angle irons.
Tue, June 27, 2017
File:CNC Torch Table Assembly.fcstd almost complete.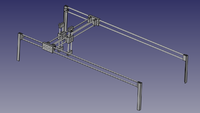 Wed, June 21, 2017
File:D3D Universal Axis 1 inch.fcstd including all 6 major parts uploaded.
Universal Axis 1 inch Simplified complete
Tue, June 20, 2017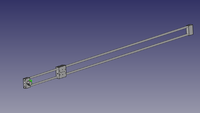 Assembling 1" Universal Axis and simplifying
Fri, June 16, 2017
Putting D3D 13 Assembly CAD simple together
File:D3D 13 CAD Assembly simple.fcstd
Mon, May 29, 2017
Uploaded:
File:Universal Axis Idler simple.fcstd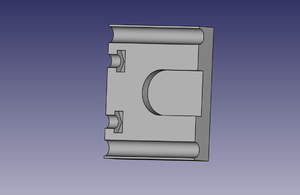 File:Universal Axis Carriage Side simple.fcstd
File:Universal Axis Motor Simple.fcstd
Wed, May 24, 2017
Started simplification of x-axis assembly.
Uploaded:
File:D3D End Stop Assembly simplified.fcstd ( [| Inventory updated] )
File:D3D End Stop Switch simple.fcstd
File:D3D End Stop Interface simple.fcstd
Wed, May 17, 2017
Got caught up on Marcin's follow up video.
Did some updates to the D3D 16" CAD Inventory
Uploaded:
File:D3D 8mm rod.fcstd File:8mm bearing lmuu.fcstd
Sat, May 13, 2017
Completed the OSE FreeCAD exam.
Mon, April 11, 2016
Wrote Seattle Buid Group description
https://www.google.com/url?q=https%3A%2F%2Fwww.dropbox.com%2Fs%2F2tx7s4tc9rowmgr%2Fsxg.html%3Fdl%3D0&sa=D&sntz=1&usg=AFQjCNG9LT5pA6cjm1n5mLg-vL2f5HLjFw
Wed, April 6, 2016
Called Folger Tech to inform them of future order, left message, and got a call back confirming. Will call back later to verify once more.