Kiln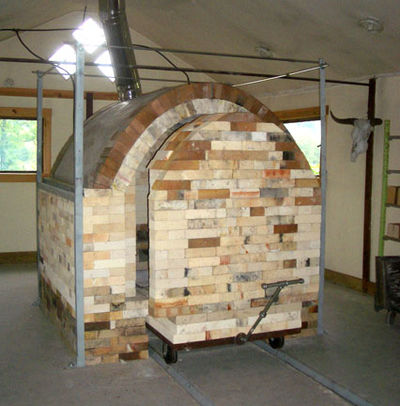 Basics
A kiln is a giant oven that enables the Heat Treating of materials, especially metals, Firing of Ceramics, burning, and drying
Main OSE uses would be:

Heat treating metals for Tempering and making tools more durable, or making tools soft to modify/maintain them
Firing Ceramics (ESPECIALLY once a D3D Ceramic Printer is developed, which would be useful for ceramic hearths, also ceramic water filters may be of use (unglazed fired ceramic)

Easily constructed with CEB Press or Concrete, a Kiln serves a wide number of useful functions (Can CEB's Handle Heat without cracking? perhaps some weird mix?)
Research
There are multiple types of kilns, including batch feed and continuous feed processes. A general purpose kiln that can be used in a variety of applications could serve to be quite useful in a GVCS Community.
Specifications
Bricks 900-1000 °C
Firebricks 1650°C
Product Ecology
Applications
Heat Treating
Mainly Metal, via tempering, and quenching metal's structure can be changed for variosu properties

Main changes are hardness, and workability, but there are many subtleties
Ceramic Firing
Perhaps even engine componets for "running hotter" and thus increasing thermal efficiency
Also standard pots/plates/art
Wood Drying
A freshly felled tree cut into logs and run through the Sawmill will produce Green Wood. While viable as a construction material in many applications, green lumber has a nasty habit of warping and shrinking over time (which can cause issues).
One approach toward addressing this is simple air drying. The lumber is stacked in a clean, cool, dry and shady area, atop raised foundations, with spacers (called stickers) laid crossways at regular intervals for ventilation. While air-drying Sawmill lumber is a viable option (and produces high-quality lumber), it is a process that can take months to years.
A kiln accelerates this process by rapidly heating and drying the lumber, enabling on demand fabrication of wood products.
Bricks
Additional structural strength can be gained from CEBs upon firing in a kiln (although this is unnecessary in many applications).
See Also
Useful Links
"vertical shaft brick kiln" - very energy efficient kiln for brick making, common in China; video (animation): https://vimeo.com/3689165