Gasifier Burner
Gasifier Build Workshop in 2015 with gasoline engine Power Cube running on charcoal. See more info at Gasifier_Construction_Set_Workshop:

Hint: OSE's gasifier build from 2015 is at Gasifier_3D_CAD. This is worth developing to a product.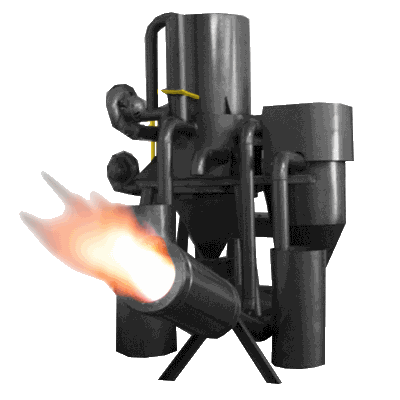 See Developent Spreadsheet for Gasifier Burner
Overview
The Gasifier Burner converts biomass fuel into power and useful chemicals.
See Gasifier Development Template for 2015 Development.
Details
This is achieved by reacting the material at high temperatures (>700°C), without combustion, with a controlled amount of oxygen and/or steam, breaking down the biomass into carbon monoxide, hydrogen, carbon dioxide and methane. The resulting gas mixture is a fuel called syngas. If Air is used in place of oxygen the gas also contains inert nitrogen and is called producer gas.
Product Ecology
Status
The gasifier burner is currently in the Research phase of development.
Join the conversation here: https://groups.google.com/forum/#!forum/ose-gasifier-burner-development
See Also