MicroHouse Collaboration 2014
Upcoming Design Sprints
Feb 26, 2014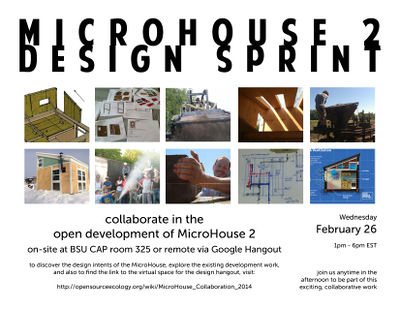 Join us for a design sprint on the afternoon of February 25, from 1:00pm to 6:00pm EST. The physical location will be the Ball State College of Architecture and Planning, Room 325. The virtual space can be found by following this link:
Welcome to the MH Collaboration 2014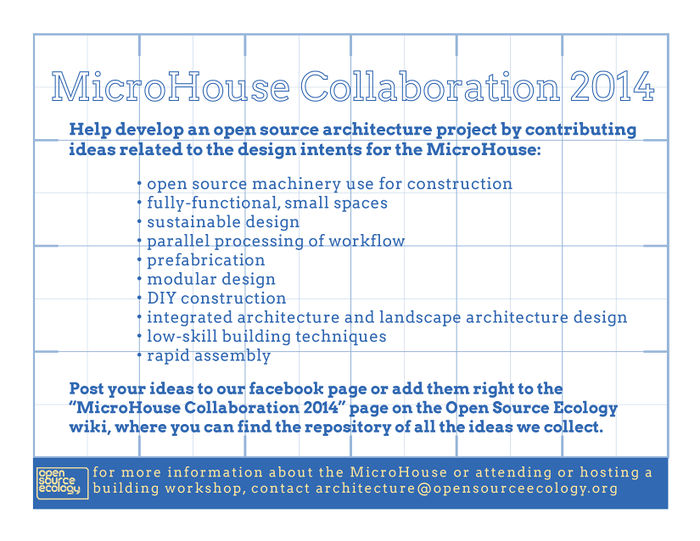 Message from Architectural Lead and Construction Manager
Thank you for visiting the repository of ideas for MicroHouse development in 2014. We are casting the net wide and gathering as many ideas as possible for the next iterations of the MicroHouse. Feel free to post items directly in the appropriate categories on this page. If one does not exist, go ahead and create it. I will manage the page to ensure consistent formatting and filing of information. Also, you can post your ideas to our facebook page if you are not comfortable editing a wiki.
Background: MicroHouse 1 Development
Overview
The MicroHouse 1 was constructed at Factor e Farm in the fall of 2013. There were several ambitious goals for the project:
use open source equipment
DIY construction
fully functional space for two people with 12'x12' interior dimensions with a partial loft
parallel process prefabrication with site-building: swarming construction
rapid assembly - with the ultimate target of a one-day build
sustainable design, including passive heating and cooling
design for tolerancing - i.e. make construction methods suitable for those without experience
modular components for easy expansion and remodeling
Links and Files
MicroHouse 1 As-Built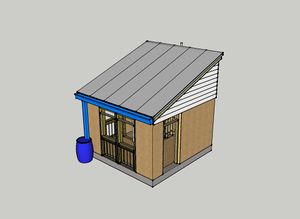 Download the SketchUp file of MicroHouse 1. File:Microhouse v1.skp
MicroHouse 2 Ideas
Current idea for MH 2 frame. Download SketchUp file: File:Microhouse 2 Window Door supports.skp
See community feedback on Facebook to this frame idea.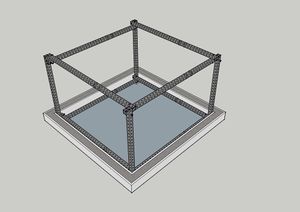 Earlier idea for XYZ bolted frame. Download SketchUp file of XYZ bolted frame idea: File:MH 2 XYZ cube w ICF.skp
See Facebook post for open collaboration with community.
Links
The MicroHouse 1 Development Board
The MicroHouse 2 Development Board
Architectural Lead and Construction Manager Personal Work Log
Microhouse Final Bill of Materials
Videos
This collection of videos documents the build of MH 1. For more notes and still images of the build process, visit http://opensourceecology.org/wiki/Chris_Reinhart_Log_Archive#Wed_Sep_25.2C_2013 and scroll up.
Roof video time lapse documentation
(edited by Rob):
Roof panels time lapse
(unedited by Marcin):
Exterior plaster
Brick Stacking
CEB Floor
Foundation and Brick Pressing
Pulverizer Timelapse
Brick Laying and Soil Pulverizer Closeup
Parts Layout for Utility Module
Improvising with Pipe Fittings
Foundation Pour
Different Paths for Development
There is both the desire to make an incredibly rapid, one-day build, and there is also the desire to create a MicroHouse that meets that Living Building Challenge requirements. Months ago, I created a graphic showing these two design intents moving in different directions, but based on the same module. I think once method are developed for meeting each goal individually, methods could then be developed to meet both goals simultaneously.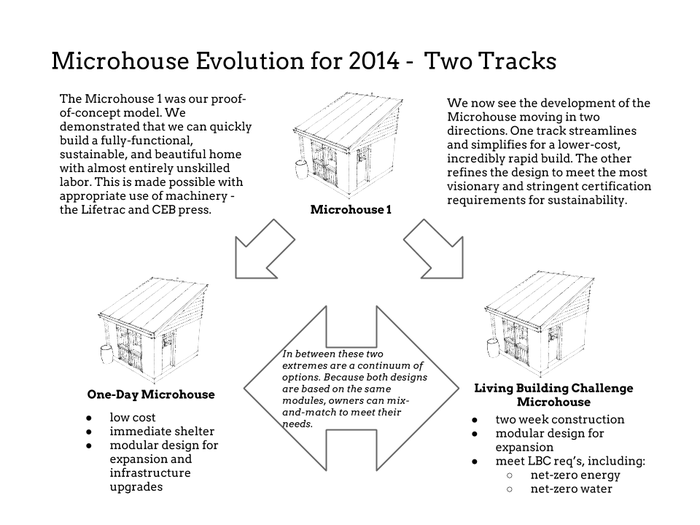 Thoughts for Expansion of MH 1 at FeF
One challenge with such a tiny home is finding space to store stuff - not the multitudes of junk that consumer culture pushes on people, but the necessities, like clothing. Here is a thought for how to add a small closet space to the upstairs of the Microhouse and later fill in underneath it.
The underneath portion could become a low-tech "ice box" or root cellar. If we shade if from direct sunlight (perhaps with an upstairs deck that could be accessed from loft bedroom), and couple it to the thermal mass of a cistern, I think we could maintain a low enough temperature for it to be functional for food storage.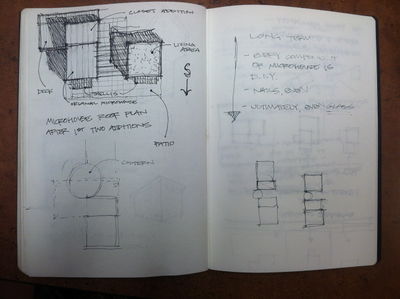 Also have begun thinking about how we might create village clusters of Microhouses at both Factor e Farm and other locations. Basing this information off of traditional neighborhood development wisdom coupled with passive solar ideas. More ideas on this to come... this is just a brainstorm starting point.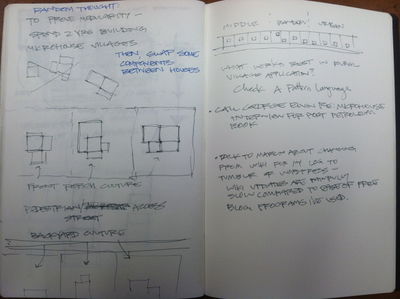 Additions Request by Catarina
General Comments, Observations, Requests, Critiques, etc
Spencer Christopherson says, "I would love to see an earth sheltered version of micro house."
Rose Mills-Arabia says, "I would love to see a small fireplace built into the MicroHouse. Maybe with the top sticking out and an opening directly above where you can cook food."
Jean-Baptiste Vervaeck says "¿what if you moved module 2 to the top left corner above module 1, extended the patio area up to the back wall of where the office space currently is, and placed the office space across from modules 1&2? there would be slightly less office space but the trellis/patio would make room to grow som indoor plants."
MicroHouse 2
Current SketchUp file for MH 2: File:Microhouse v2 process.skp
MH 2 Landscaping
explore courtyard wall options
MH 2 Layout
The layout for MH 2 is much simpler - it is one large first floor space and one large loft.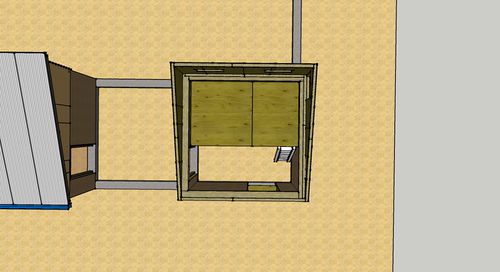 Decision Points:
Placement of ladder okay? Any ideas on slope of ladder yet?
Finished floor for MH 2 - stabilized CEBs?

Finished floor will be wood laminate upstairs and down in module 2, and in module 3, will be stabilized CEBs

Interior finish: gypsum plaster over chicken wire?

Interior finish will be exposed CEBs with whitewash or paint

Exterior finish: wood siding over rigid insulation over chicken wire?

Exterior finish will be sedum panels on south, wood siding on east, and interior finish on north and west
Foundation Concept for MH expansion
This shows the foundation expanded to accommodate Catarina's concept plan of using six module spaces for the final design.
Decision Points:
At which intersections of the modular grid will we do stub-outs for any future additions? If the 6-module cluster is expanded, which directions will it go? My feeling is that it is not likely to go any further to the west, and probably not to the north or south, either.
Do we need to include some extra foundation along the length of the north wall for buttressing? I think so.
Will the partition wall that separates the future bathroom from the large gathering room be built of CEB or wood framing?
Is there sense in pouring a 1' wide foundation for the connection between MH 1 and MH 2 if those walls are going to be wood framed?
The image below shows MH 1 and MH 2 together on the foundation.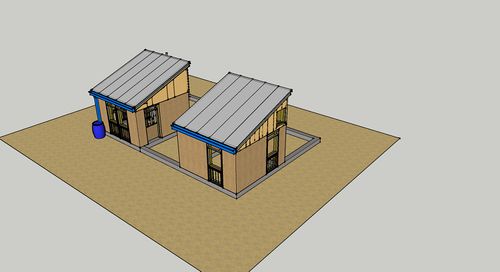 Bring the Roofs Together
This image looks at a 1-story addition along the north side. In order to keep the upper story window in the MH 1 loft, and using an 8' tall CEB wall on the northern addition, pitch of the roof becomes too shallow for using a metal roof.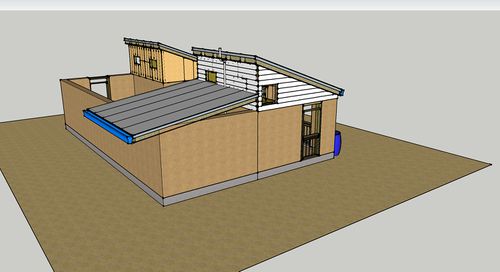 Below is shown using a 7' CEB wall for the north sections which could more easily accommodate the same pitch of roof used on the first module. The upper window is lost in this scheme, though.
Once the first and second modules are in place, the space in between them can be closed off. Shown here is a greenhouse style enclosure.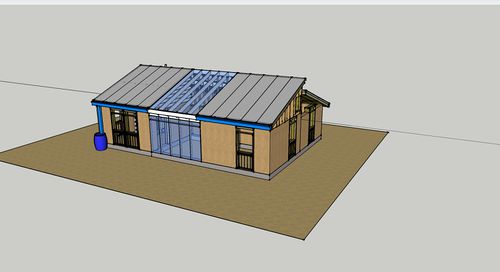 Decision Points:
How much glazing for the section in between MH 1 and MH 2?
What type of flooring in this section? Stabilized CEBs?
This image shows the roofs coming together to form a central peak.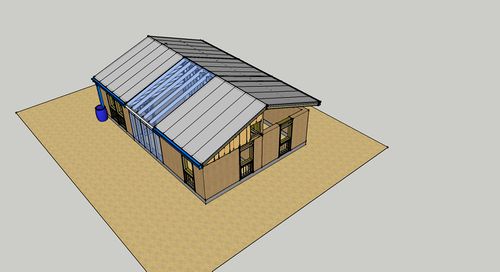 MH 2 Design Intents
Remember the design intents stated above for MH 1:
use open source equipment
DIY construction
fully functional space for two people with 12'x12' interior dimensions with a partial loft
parallel process prefabrication with site-building: swarming construction
rapid assembly - with the ultimate target of a one-day build
sustainable design, including passive heating and cooling
design for tolerancing - i.e. make construction methods suitable for those without experience
modular components for easy expansion and remodeling
MH 2 Frame Options
File:MH 2 thoughts2.skp Corner Post Positioning. Link to drawing of corner options.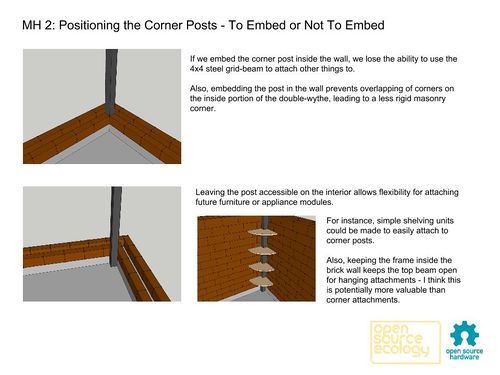 See open collaboration on Facebook for feedback from others. Link to Facebook post.
Bracket attachment for top corners. Link to drawing of bracketed top corner attachment.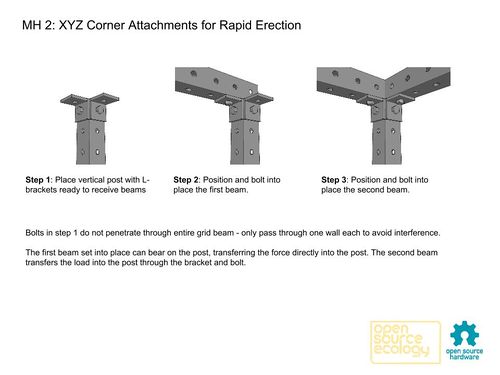 See open collaboration on bracketed corner thoughts. Link to Facebook post. Includes lots more drawings.
Here are three top corner attachment systems that came out of this discussion:

Here is the XYZ cube frame laid within an insulated concrete form.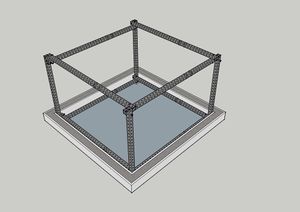 See Facebook post for open collaboration with community. Download SketchUp file: File:MH 2 XYZ cube w ICF.skp
Affordable Design
http://www.fastcoexist.com/1678739/six-designs-for-houses-that-cost-just-300-to-build#1
Small Spaces Design Ideas
This is the category for general ideas on small houses, including those designed by collaborators or other precedents that have been collected.
Macy Miller's $11,000 House
Shared by Rob Kirk on December 19, 2013
Macy Miller is a 30-year-old architect that designed and built this beautiful small home on a trailer frame. It looks incredible!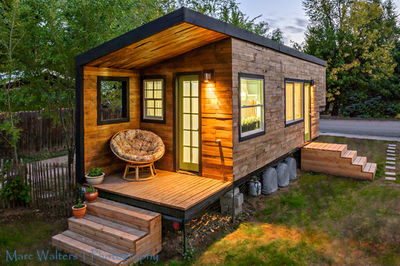 Here's a link to an article about the project: http://homes.yahoo.com/blogs/spaces/architect-s-big-idea--tiny---11-000-house-200544175.html
Belgian Egg-House
Added by Chris on Nov 30, 2013
Catherine Austin Fitts sent me this link to an interesting egg-shaped design for a tiny home, by firm dmVA: http://www.designboom.com/architecture/dmva-blob-vb3/
Here's another link to a different article on the home: http://www.theverge.com/2013/10/6/4809670/belgian-egg-house-combines-bed-bath-and-kitchen-in-self-contained-unit
Images from the first link listed above.
Link to dmVA home page: http://www.dmva-architecten.be/v2/index.php
Nomad Micro Homes
Added by Chris on Nov 25, 2013
Rob Beddingfield posted a link to Nomad Micro Homes with this comment, "This microhouse makes there whole bathroom into a shower stall, it looks like that allows them to put a sink in there."
He was referencing this picture: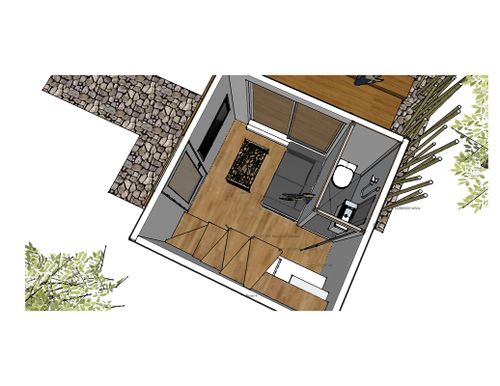 You can check out Nomad Micro Homes here: http://www.nomadmicrohomes.com/
I think this fits right in to the modular component design. We could make the whole unit and move it into place with stub-outs, utility module style. Pop on the fixtures once it's in place, unless we can effectively deal with the weight issue. What's the lifting power on the LifeTrac? We could easily calculate the weight of a given design. What I like about the idea, especially if we include the utility module as part of it, is that we have just a single component for the downstairs. Would be tough with human power, though. It took three of us to move the Utility Module around. If it was a single module, it would have to go in first and be built around. That's not necessarily a problem. Anyway, this is a very compelling suggestion. -Chris
Tom Mallard's Small Home Idea
Added by Chris on Nov 25, 2013
Thanks, Tom, for posting these ideas to the OSE facebook page in response to the MicroHouse infographic. Your design is very cool!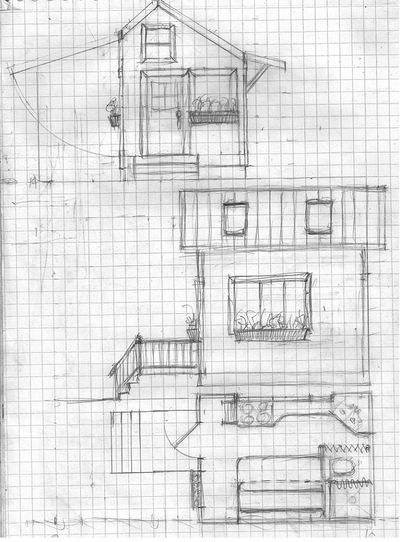 Here's what Tom had to say about it:
"This is a 10ft x14ft tiny home with a loft that's active solar-thermal using the roof as the heat-cold source and water thermal-mass in pipes below the floor & in the high wall, toilet & gray water on separate piping and drinking water collection from rain to a cistern.
A patio roof folds down in winter on the north side, floor plan has built-ins a lot of shelving the table drop to a dbl bed, room for another in the loft that has a lot of drawer storage, ladder to it not shown."
Earth Block Construction
Auroville Earth Institute: Arches, Vaults, and Domes
This link was posted to the page by Micah Chiri, with the following comment: "I've suggested this before and will again. With this implementation, the whole MicroHouse could be constructed with earth material."
Auroville website: http://www.earth-auroville.com/compressed_stabilised_earth_block_en.php
DIY Construction
This category includes ideas of DIY processes.
Open Source Equipment
This category is for ideas about creative ways to use open source equipment in the construction process.
Parallel Processing
This category is a repository for ideas about workflows that parallel process components that later come together in assembly.
Prefabrication and Rapid Construction
Here is place for ideas and precedents on prefabricated projects and other rapidly built projects.
Steel SIPS
http://www.precisionfoamfabricators.com/index.php
Method for One-Day Timberframe Shell Enclosure
Very swift way for putting up a structure and shell in a day. Requires prefabbed components and connectors.
Folding Hip Roof
Very interesting idea... cannot find a website with plans or any other information, though.
Here is a scale model of a square hip roof that would be better suited to the current MicroHouse module.
And here is the scale model of a gable roof.
Jean Prouve'
Jean Prouve'. Metalworker. Self-taught architect. He made serious explorations into prefabrication that I have just become aware of. It's a great story.
Modular Library Studio by 3rd Space
Thanks, Catarina, for sharing this prefabricated project by 3rdSpace.
Image from http://design-milk.com/modular-library-studio-3rdspace/modular-library-studio-3rdspace-3a-empty/ Image from http://design-milk.com/modular-library-studio-3rdspace/modular-library-studio-3rdspace-1/
Article on the project on Design Milk: http://design-milk.com/modular-library-studio-3rdspace/
3rdSpace architects website: http://www.3rdspace.co.uk/
Modcell Straw Technology
Rapid, Massive Foundation and Wall Construction Using Mechanized Civil Engineering Technology
These technologies are used for stopping erosion, holding back floods, building ponds, and other such works. This materials are very resistant to fire, flood, hurricane wind, insects, mold, rot, and small arms fire. Massive buildings can be completed in a single day because of the use of large earth moving equipment such as excavators, skid-steers, rollers, or lifetracs.
Earth-Compacted Wall (Form Free)
This is the most basic form of earthen building. No forms, no straw. Earth is compacted into a wall using the same methods as an earthen dam. A roof is then put over the top. The only requirements is a soil with some clay content. To avoid problems with humidity be sure to cover much of the wall with the roof, add earth to the construction location to raise the floor level up a foot or two above natural ground level, don't build into the sides of slopes, and don't build in stream beds.
If the exterior sides are planted with bamboo or another soil-stabilizing plants, the wall should be maintenance free for thousands of years.
This construction technique is presented in the Permaculture Designer's Manual p 238-239. I've heard of these buildings being constructed in Australia, but I haven't seen detailed reports, videos, or pictures of the process.
This may have been a dream, but years ago I saw a picture of such a house. The walls looked like the base of a four-sided pyramid covered in vegetation. There was a single hallway-like opening leading to the door. Sandwiched between the earthen wall and roof was a series of 1 to 2 foot windows that wrapped around the entire building.
Giant Stones
Stone walls used to require time-intensive, back-breaking labor. Now with an excavator to move giant stones a small, stone building can be built in a day. The walls will last for geologic time. Sepp's use of passive underground cooling vents is also brilliant.
http://www.permies.com/t/1443/green-building/Sepp-Holzer-root-cellar
Gabion
If your site lacks giant stones but has plenty of smaller stones or rubble, large machinery can fill gabions for quick walls. The lifespan is limited by the metal wire. Life expectancy is 50 years, perhaps 100 with a protective stucco.
http://www.iiirr.ucalgary.ca/files/iiirr/85.pdf
http://www.treehugger.com/sustainable-product-design/konzept-haus-9x9-by-titus-bernhard-architekten.html
Hesco Bastion
Hesco Bastion is a company name. It is similar to a gabion basket, but it contains a fabric liner. This allows it to be filled with all types of gravel, rubble, and sand, and earth. If the site is only sand and small rubble, the Hesco Bastion will still be a viable option when many other earthen techniques will not. This system has proven itself in Iraq and Afghanistan.
Rapidobe
Rapidobe is similar to the Bastion, but made from cheap and recycled materials. Nice!
http://www.instructables.com/id/Rapidobe-a-cheap-way-to-build-walls-retaining-w/
http://velacreations.com/shelter/building-components/walls/166-rapidobe-walls.html
Sustainable Design
Ideas on sustainable design for the MicroHouse are found in this category.
Straw Board
http://www.strawtec.com/english/english_start.html
Mushroom Insulation
Another way to create insulation from straw or other biomass. This insulation panel can be used in a rapid-assembly SIP panel.
http://www.ecovativedesign.com/
Low-Skill Techniques
Ideas on how to creative an inclusive process for those that have little or no construction experience.
MicroHouse + WikiHouse
Marcin and I had talked about this, and Alan Hynek made the suggestion on the facebook page. What are the possibilities with a mash-up of the MH + WH?
WikiHouse webpage: http://www.wikihouse.cc/

Simpler WikiHouse - basic frame structure impression (by Alan Hynek):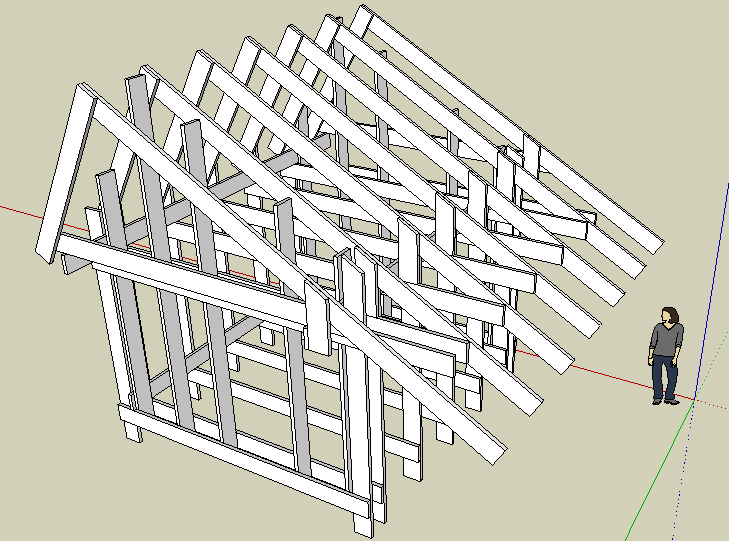 - 12' x 12' interior size
- easy DIY, no CNC milling just cutting to length and angle
- Barn Rising style of constructing, but way much easier measuring and cutting (no complicated joints) and light to raise
- 2x10 timber would be strong, but also quite heavy to lift. 1x10 could possibly do quite well and one frame section would weight about 90 kg (dry pine construction wood)
- possible fastening methods: nails and hammers (cheap, fast and accessible), wood screws and impact driver (more expensive, easier, probably stronger)
- roofed area for small porch
- usable loft (bedroom)
- suitable for light roofing (boarding + shingles, corrugated steel)
- walls could be insulated between boards with different materials
- possibility of scaling by adding frames in the middle and separating rooms (making house longer)
SketchUp file - File:MH-WK-0.1beta.skp
Center for Maximum Potential Building Systems
(By Marcin from a 2010 presentation)
Slide 1 - Slide 2 - Slide 3 - Slide 4 - Slide 5 - Slide 6 - Slide 7 - Slide 8 - Slide 9 - Slide 10 - Slide 11 - Slide 12 - Slide 13 - Slide 14 - Slide 15 - Slide 16 - Slide 17 - Slide 18 - Slide 19 - Slide 20 - Slide 21 - Slide 22 - Slide 23 - Slide 24 - Slide 25 - Slide 26 - Slide 27 - Slide 28 - Slide 29 - Slide 30 - Slide 31 - Slide 32 - Slide 33
---
Modular design is the second desirable feature of sound, lifetime design. Modular means that the object can be modified. This is particularly desirable, as needs change over a lifetime. The Center for Maximum Potential Building Systems in Texas has designed Green Forms – a modular building system based on xyz-corner bolted post and beam construction. A sample building beam with predrilled holes is shown. There are functional indoor modules, such as a bathroom or entertainment module, that can be fitted into the rooms.
It is important to note that lifecycle costs of products, such as buildings, occur mostly not in the original purchase price, but all the modifications that are made over the lifetime, as shown in the illegible graph in the middle. The up-front cost is about one third of the lifecycle cost. To keep the lifecycle costs down, modular design is desirable.
Modular CEB Construction OSE 2010
Modular truss design for CEB walls
Inspired mainly by Modular CEB Construction 2010 (where it could be used), but also on the constructed Microhouse 2013.
A modified version of 2010 OSE truss design (http://opensourceecology.org/wiki/Trusses#2010).
Basic materials needed are 2x4s, OSB sheets and nails.
The idea is to create easily extendible roof construction. In 2010 Modular CEB Construction the building could be extended by adding columns and then adding trusses one by one which would be much lighter than whole 32'x32' or 16'x16' module. If covered with corrugated steel it would require only to add next steel sheets.
This roof can be built on top of CEB walls as well as CEB columns and (with small modifications of strut) on wooden frame.
The idea is to make the assembly easy by fixing struts to joists and placing next truss and next struts. That would require no heavy equipment for lifting parts. The struts would be joined together by nailing trough OSB of one strut and 2x4 of the other (previous) strut.
The strut acts as a wall plate.
On the SketchUp drawing the roof is flat, but it can be easily tilted just as it is, or redesigned for certain roof angle. Current design is meant to be extendible only in length (roof width 16') but possibly also in width.
Sketchup file - File:OSE truss strut and wall plate in one.skp
./by Alan Hynek
Construction Management Research
How many hours does it take to build a house?
Here's a guy saying his 900sf house took about .75 hours per sf. http://www.contractortalk.com/f16/avg-man-hours-build-1800sf-home-12127/

Here's one that says 500 hours for a 1000 sf house, or .5 hours per sf. http://www.ask.com/question/how-many-man-hours-does-it-take-to-build-a-house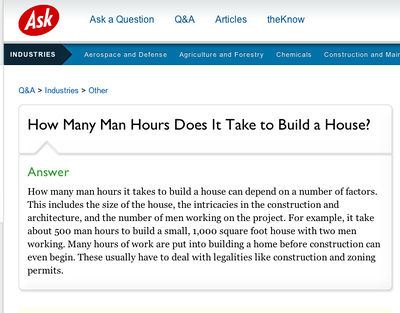 This one is from a tiny homebuilding couple. 238sf house built in about 120 hours. Again, about .5 hours per sf. http://tinyhousebuild.com/how-long-does-it-take-to-build-tiny-house/
How Many Hours in the Build of MH 1?
While it was our goal to record times for the MH 1 build down to the minute, this did not happen in practice. With crews smaller than we had intended, it was all hands on deck for the build itself and no one able to dedicate themselves to documentation full-time. Here are the rough numbers from MH 1:
Initial build sprint: Average of 6 people for 6. So, 6 people x 8 hours/day x 6 days = 300 hours. (This was 2 skilled workers and the rest volunteers) Follow-up: 2 people for 5 days. So, 2 people x 8 hours/day x 5 days = 80 hours. (This was 1 skilled worker and 1 volunteer.) Punch list: 1 person for 15 days. So, 1 person x 8 hours/day x 15 days = 120 hours. (This was a temp worker.)
Grand total for the MH 1 build is roughly 500 hours of build time.
Links
$11k trailer microhouse - [1]