User:Dorkmo/Log/2018
November 29, 2018
https://en.wikipedia.org/wiki/Circular_segment
November 10, 2018
starting fresh with circularknitic mountain

tidied up the github files
November 7, 2108
review circular knitic files, start new to-do list

can a recursive calculation be used for mountain groove path?

add some links to OSE on GitHub
October 7, 2018
pushed some tweaks to github on torch table idea
September 26, 2018
September 8, 2018
priced out a few pieces on 3Dhubs.com just to ballpark cost
September 7, 2018
looking at options for high torque steppers

found this one oriental motor
needs 24V 1.5A
I dont think polulu outputs enough to run two steppers on the same driver for the same axis like prusa
AutoDriver says can handle 3A but not sure how to integrate with arduino control etc
September 1, 2018
did some work on Torch Table pet project github
changed my openscad render color to Sunset, and text color to Tomorrow Night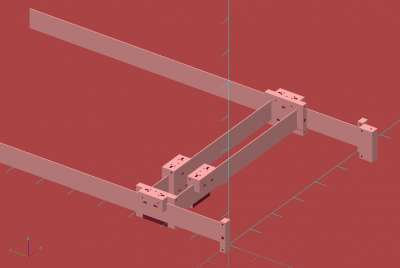 August 23, 2018
tried out screen capture software on ose linux
made a video using deepnest Nesting Software
Watch how to - deepnest from dorkmo on www.twitch.tv
August 3, 2018
Might use this CSV to WikiTable converter in the future to move google sheets directly to the wiki mlei.net
had some ideas for a torch table, started an idea page User:Dorkmo/Ideas/TorchTable
July 29, 2018
drew a sketchup microtrac idea for practice, then recreated parts in freecad for practice
July 26, 2018
trying to swap out hydraulic motor in microtrac freecad file. File:430260W3131AAAAA.FCStd

i was able to import the file and haphazardly move it to the general area where it belongs.
in sketchup i would typically draw some guidelines to find the center of the cricle, then snap the center of the motor to the guide lines in the Z, then the Y. Then grab the face of the motor and snap it to the face of the mount.

need to learn how to move objects efficiently in freecad

is there a way to place the face of one object against the face of another?
is there a way to align the centers of two parts' shapes?

going to do a test cube Developer Test
can you teach an old dog new tricks?
July 22, 2018
Got OSE Linux to boot up on my laptop

The laptop i have has an intel integrated graphics chip and also an nvidia chip
In the bios i had to select "disable" for the option "3D Graphic Acceleration"
I'm not sure if thats related to the intel or nvidia.
July 21, 2018
tweaked the BOM for MicroTrac Controller v18.02

Think im going to abandon the Lithium battery option for the remote control

Too expensive, extra work, and only ground shipping.

Just going to use a 6 cell AA holder with a panel mount plug for swapping

could use 2 panel mounts wired in parallel and it'd be hot swappable
July 10, 2018
Attempted to put OSE Linux on a usb stick.

Used Rufus on Windows 10
When after selecting to boot from USB i get the Ubuntu logo
After a few seconds the loading dots freeze and nothing happens
Will try booting from a different computer soon.
June 19, 2018
June 9 ,2018
Started measuring parts for LiPo charger case LiPo_Charger_USB_v18.02#Case
Need to solder up and check to see if it'll work

might use ethernet wire for the USB digital signal wires because of tiny holes on PCB

Made contact with someone who was working on their own fork of the Circle Knitic
June 3, 2018
Learning how to use GitHub a little better.

Downloaded the desktop software.

Cloned to desktop. Opened File Folder. Opened File, made changes. Then sent changes back to cloud.
May 27, 2018
May 24, 2018
Hello to the new wiki!
May 20, 2018
went through measurements in CircularKnitic_Parametric to create diagram of needle location in relation to key parts of structure
going to use diagram to distill new variables of relationships between needle and strcuture. then use for parametric needle variables in OSE_CircularKnitic_v18.03
May 3, 2018
April 23, 2018
just found OpenScad's MCAD, http://reprap.org/wiki/MCAD

looks like you can make gears quick and easy? need to test it out.

could be handy for circularknitic
April 22, 2018
Mar 28, 2018
Freezer to Refrigerator Conversion
wired up a test box. having trouble triggering relay. probably not enough signal voltage from microcontroller. need to test output from arduino MKR1000 further. I think i might need a diode with the resistor?
got everything to fit inside a 4x4x2 conduit box. used stepped drill bit to cut holes. then tied knot in wire to keep it from pulling out.
Mar 24, 2018
Added wiring harness for fridge conversion. Tweaked BOM.
Freezer to Refrigerator Conversion

Populated Open Hardware Business Models
Mar 3,2018

Feb 11, 2018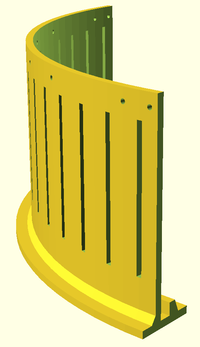 Feb 10, 2018
Signed up for Kit.com. Prepping new amazon.com based BOM for Freezer to Refrigerator Conversion.
Feb 3, 2018
Starting a parametric version of CircularKnitic bc i'd like to make a larger format version CircularKnitic Parametric
January 2018
Started MicroTrac Controller v18.02 and LiPo Charger USB v18.02