Current tasks
2020
2013
Hardware development
Web presence
Import bbPress forum posts into Vanilla Forums (http://openecology.org/forum/)
Import forum posts from FeF
Provide SSO
Funding
Three conditions should be met to create a credible fundraising solicitation for high net worth (hnw) individuals and foundations.
Clear presentation of the project's mission and significance.
Plan to achieve that mission with milestones, budget breakdown, etc.
One completed iteration of the Open Source Development Pipeline that shows how each of the 40 items will be developed and 'opened.'
Possible Funding Channels
High net worth individuals (ex. rich kids, financial service professionals
Progressive foundations See list at Foundations
True Fans (subscription basis)
Selling hardware
Recruiting
Opensourceecology.org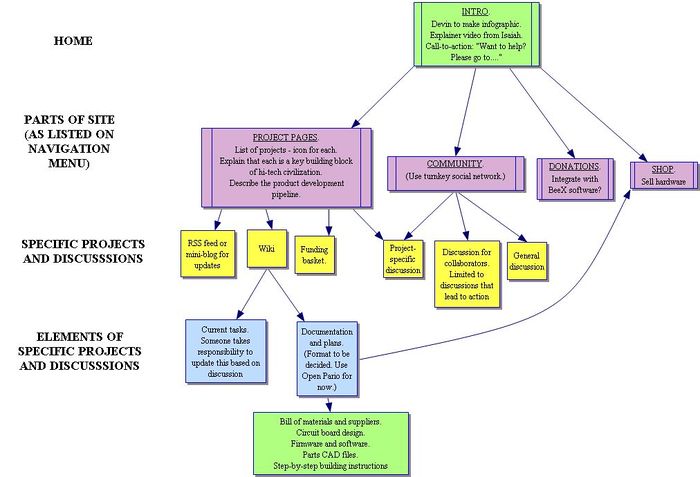 GVCS
To do
Devin: Infographic
Isaiah: Explainer video
Devin: Talk to guy who may be interested in designing the OSE pattern language icons -Icons_for_Proposal_2011
Elifarley: Talk to graphic designer about brochures
Conor: Research different collaboration platforms used by successful open hardware projects
Devin: Tune up BeeX funding infrastructure to allow integration. Enable subscriptions.
Miquel: Assess bettermeans.org versus Open Pario as collaboration platform
Higher Education
We are looking for students at universities who are interested in further theoretical development of the open source economic development model:
Innovative business students to study the neo-commercialization model
Philosophy students to study the peer-to-peer economy model
Students of industrial, electrical, mechanical, and other engineering disciplines to explore developing open source technologies
Computer science students to develop of innovative software platforms for collaboration
Students of rural sociology, as this is a revolution of the countryside
Did the thing with Gaia University ever happen? I noticed they are offering post-Masters certificates. Does OSE want to encourage people to take advantage of Gaia's open courses to study some of the things proposed as potential doctorate programs?
Gaia University
Blog Gaia
Proposed Ph.D programs
Negotiate independent study projects with students at colleges and universities? Is this still a potential reality?