MicroTrac v17.10

Hint: See Tractor Construction Set 2017 for more design details, and burndown graph.
MicroTrac v17.10



Short description

Specifications
Product Ecology
Uses Power Cube
License
OSHWA and OSI compliant. CC-BY-SA-4.0 International, GPLv3, DIN SPEC 3105.
Tracks
1/2" x2" steel bar welded track
Power Cube
16-27 hp as needed
Key Specification
Open source design for Distributive Enterprise and lifetime design.
Construction
1/4"x4" perforated steel tubine, 3" shafts for wheels and loader arm
Productivity
Full capacity for quick tool attachment with hydraulic takeoff to implements on the loader allow for mulfunction flexibility.
Completion Status
Prototype 2. Near product release pending Universal Track Unit completion. See more at Lifetrac Genealogy and Status of Completion.
Do you want more of this? Get Involved
Development
Rendering
2018 Field Testing
From MicroTrac Raw Footage, we have:
Field Testing - Fall 2017
As-Built Details
Development Template
(More tech dev at Tractor Construction Set 2017.)
See also simple template at edit, which has been deprecated.
CAD
See Tractor Construction Set 2017
BOM
Build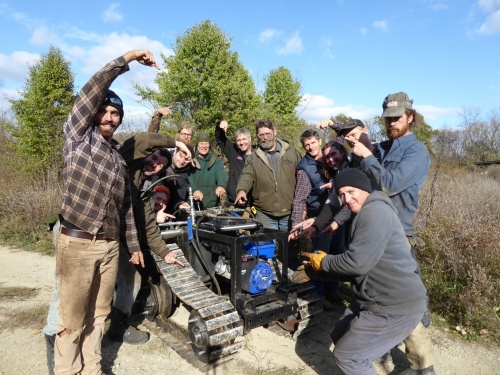 Control Panel
Build Instructions
Cut lists
Parts orders
Actual build instructions
Tooling - fix 2 welders
Hose Routing
Links
Groups
Refs