OSE Christmas Gift to the World 2012
OSE has achieved a major milestone with the production of its automated Compressed Earth Brick Press in a single day. This has set a new standard of efficiency for OSE. The implications are that when the other Global Village Construction Set machines are designed according to similar principles of hypermodularity and simplicity - they can also be produced on the time scale of a single day.
Merry Christmas from OSE. from Open Source Ecology on Vimeo.
See corresponding blog post. See also OSE Christmas Gift to the World 2011.
Introduction
Every year OSE provides a Christmas gift - to the entire world. This year, we have optimized production of the brick press significantly. We went from months in our first production run 4 years ago - to 4 days in September 2012, to 2 days in November - and we look forward to December 18, 2012 - as we build The Liberator - our open source, automated Compressed Earth Brick Press - in a single day.
A Single Day Production Run of the Brick Press is OSE's Christmas Gift to the World for 2012. This will be accompanied by full documentation - and readiness to see hundreds of these machines be used in 2013 around the world to build high quality housing at about half the cost of conventional building in the USA, and at 1/5th or less the cost for owner-builder construction.
A single day of production means that the builder can generate significant revenue from building and selling these brick presses. We intend production of The Liberator - and other Global Village Construction Set tools - to become a self-funding model for other open source projects. If you are an open source project according to the Open Source Hardware Association Open Source Hardware Definition, we invite you to contact us regarding strategic partnerships for working together - to create the Open Source Economy.
Production Run Results
We have begun with laser-cut steel, and completed the whole machine in a single day:
Process
For the first time, we will be relying on a CNC Torch Table to build The Liberator. We will get parts CNC cut prior to the day of the Production Run. Most of the subsequent tasks will be welding. We will use a manually assembled board or CNC circuit milled board as the core of the solenoid driver, with an Arduino controller. See The_Liberator#Electronics_-_CEB_Press_IV. See also Radical Collaboration Strategy
BOM
The BOM includes 1/8" and 1/2" steel, plus hydraulics, cam rollers, and bolts from November 23, 2012 Collaborative Production Run. The steel order is minimized to include those parts not covered by CNC torch table cutting - File:Sweigerxmas steel.ods
Redesign for CNC Torch Table
See the complete fabrication drawings - File:CEBIVFab.pdf - (they have many small mistakes, so use them for concept only). Also see overall project page for CEB Press. We begin by breaking the machine into parts, with Project Leader for each.
Core Frame Assembly - CEB Frame
Frame DXF Files
Download DXF in progress: File:Parts1to6.dxf. First hole: File:Parts1to6holy.dxf. All hole: File:1to6holy.dxf. Front faces prior to cut-ready: File:Framefront.dxf.
See Frame DXF Files for full library of indexed parts.
The CEB frame can be fabricated completely from a single sheet of 1/2" mild steel if the frame is considered to be a weldment. U-channel can be welded from flats Because the frame is bolted together - the major part of frame fabrication involves measuring and drilling/punching holes. If the entire cut is done on a torch table, all the holes are guaranteed to align - and the frame fabrication process is reduced to welding and assembly. This is more ergonomic than using u-channel from the fabrication time perspective. It takes approximately 8 hours to build the frame and fit the cylinder if u-channel is used. This can be reduced to about 1 hour with parts cut on a CNC torch table.
Test-Driven Development
We can model the real-life, 44" tall frame of the Brick Press prior to cutting it in 1/2" steel. The File:Framefront.dxf should be tested as a model - via small CNC lasers or CNC routers - to verify that the model is correct prior to real life cutting. Download the file and CNC laser cut or route it. Glue (instead of welding) the lips on the u-channel and then put in bolts or pegs to bond everything together. 1/8" thickness scale model would mean a 1/4 scale model (real machine is 1/2" wall thickness) - so the 43" machine would now be about 11" tall.
(compression chamber cover plates are not included - this is just a test of the main frame assembly. 2 of these need to be cut, and the webbing of the vertical frame u-channel is needed as well. The lips of the face plates are not necessary at this time. See full CEB fab drawings at File:CEBIVFab.pdf (on CEB Press page) for reference.
Context:
Request Emails to CAM Flash Mob
See CEB Frame Test CAM Flash Mob Request.
Build Procedure in Metal
Torch all CEB Frame parts. See CNC Cut CEB Press Frame Weldments.
Weld Compression Chamber Spacer together. Quality control - 2.16" height.
Bolt Top and Bottom Face Plate to U-Channel Lips, do not tighten bolts.
Bolt Compression Chamber Spacer to Side U-Channel
Fit Side U-Channel Face in place
Fit 6"x12" rectangular tube inside frame as a spacer
Square up sides, D-lamp frame together, tack the U-Channel in place
Tack U-Channel lips on the Top Face Plate, and tack bottom u-channel lip to Bottom Face Plate.
Frame Compression Chamber Cover Plates, Compression Chamber Spacer, Cylinder Mounting
Cylinder Mounting
The cylinder mounting can be converted to adjustability tubing so that cylinder mounting can be varied up to 2" longer and 4" shorter to accommodate different cylinder types around the world. A long slot with welded flats that accept the round tubing can be used here, saving on modification time for others using different cylinders.
CEB Drawer
Drawer (1/2" steel parts) complete set without 1" rails: File:Drawer1.dxf. Ready for cleanup into actual file for CAM and for creation of Digital Fabrication Diagram.
Hopper and 1/8" Steel Sheet Cutting
Download pictures of modified fabrication drawings of CEB hopper, based on learnings from last production run: File:CEBfabmods.tar.gz*This is primarily the hopper, plus all guard shields.
Hopper needs to have hole locations corrected. This is an old drawing for conceptual purposes only: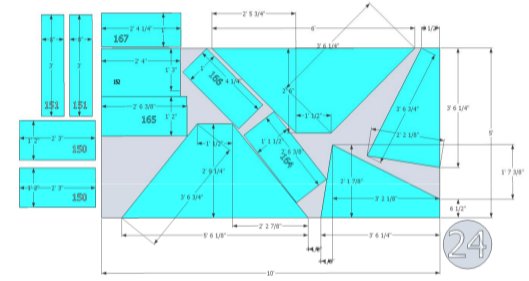 Hopper CAD drawings
Get current drawing set zip file.
If you find errors or have drawing change requests please go to issue tracker and click on the "New Issue" button.
Hopper Fabrication Procedure and Diagram
CNC Cut hopper and shields metal from 1/8" mild steel, 5'x10' stock
Cut Hinge to size
Attach Hinge to Front and Back Hopper sheet and mark hole locations in hinge.
Punch holes in Hinge with Hole Puncher
Weld 3/4" hinge bolts on Hopper Front and Back
After punching holes in hinge, bolt hinge to Hopper Front and Back
Assemble hopper in a standing position by C-clamping Hinge to Hopper sides
Tack weld hopper, take off clamps
Finish weld hopper.
Estimated hopper build time: 1 hour for full hopper with 2 people once sheet metal is cut.
Arms
The primary and secondary arms lend themselves to full CNC cutting, which provides significant time saving.
CEB Grate
The CEB grate can be redesigned for CNC torch table fabrication by shifting from 1/4"x2"x2" angle to 1/2"x3" flats for the frame.
Other Parts
Parts for the shaker, solenoid valve mounting plate, quick connect mounts for solenoid valve, hopper supports, sensor holders, and cam roller supports - can be cut on the torch table. The CNC torch table does not apply to tubing, hydraulics components, or electronics.
Shaker
Here is the redesign for CNC on the shaker assembly.
Supports & Tubing
The tubing can't be cut on the torch table with time savings. This includes:
Hopper supports
Legs
leg and support holders
Cam roller holders
Hydraulics
The hydraulics include the main and secondary cylinders, shaker motor, pressure switch, solenoid valve, fittings, and hoses. The main assemblies, all connected with quick-coupled hoses, are:
Shaker motor assembly
Solenoid Valve Assembly
Primary Cylinder Assembly
Secondary Cylinder Assembly
Hydraulic Pressure Switch - is required for bypass under nonuniform soil conditions
Electronics
Build Procedure - Digital Fabrication Diagrams and Language Agnostic Instructionals
Distributive Enterprise
Ergonomics
See Brick Press Digital Fabrication Ergonomics
Business Development
Event Information
General Information:
Run is happening from 8AM - 8PM on Tuesday, December 18, 2012. Orientation/preparation day on the 17th.
Maysville, Missouri location - travel to Kansas City International airport, 1 hour away.
Stay in a nearby hotel in Cameron, Missouri - 15 miles away
Free admission to True Fans, Bioneers East Conference participants, and Special Guests.
$300 admission for interested fabricators in training and anyone interested in helping on the production run
Expected number of people: 12-16
Intensive learning experience
General Requirements:
Liability Release waiver signed
While fabrication or machining work is not required - some form of common-sense, hands-on experience, or familiarity of tools in productive work is essential. This could be experience building things, agriculture, construction, trades, etc.
Bring steel toed shoes, work or welding gloves, and protective eyewear
Individuals who are interested in participating in production are required to take an orientation, safety, and basic tool operation crash course - unless they are experienced welders. Welding and grinding will be the center of this training. The crash course will take place from 4-6 PM on December 17. *Workshop preparations, cleanup, and materials layout will happen from 1-4 PM pm on December 17.
Radical Collaboration
In this event, we will push the limits of open source, global collaboration. We are redesigning the machine for fabrication largely via the CNC Torch Table. This means that the machine CAM files can be modeled/tested on a CNC router or laser cutter. This allows for remote participation in development.
Modeling - we are generating CNC files from Dec. 1-5. December 6-10, we would like to model the build. Anyone with a laser cutter or CNC router is invited to participate - by taking the CNC files and generating a fractional-scale model of the machine. This will test that everything fits together as it should. Email me at opensourceecology at gmail dot com if you would like to be involved in this.
Cutting - after feedback is received from modelers, we will correct our CNC files and move forward to real metal cutting via CNC Torch Table. This can be done remotely - as our CNC Torch Table is not ready yet. The metal can be shipped to us for about $300 from anywhere in the USA.
Fabrication Diagram - can you help us generate a Fabrication Diagram for the build?
Documentation - can you help us on the wiki documentation on the CEB Press?
Publishing - do you have a publishing platform that can be used to offer our Brick Press User Guide - as a chapter of the next iteration of the Civilization Starter Kit? We will offer downloads for free, and printed copies for sale. We are working with Paperight on this already, and we welcome others worldwide.
Translation - help us translate - the wiki documentation, video subtitles - and especially the published copy - so we can publish the The Liberator Chapter of the Civilization Starter Kit in 100 languages.
Remote Video Editing - We will aim to upload 1GB of footage to our Vimeo Account the day of the production run - and we request remote video editors to contact us to generate a video from the production run. We will share our video assets - title page, ending page - and you can run with the rest. Room for creativity.
T-Shirts - those participating in the build surely don't want to go home without the December 18 Production Run T-Shirt? Who can design one and get it printed?
The Liberator stickers - surely if we want hundreds of these machines to be built in 2013, a nice sticker would help? Who can design one and add it to our swag store offerings?
Tooling Development - The Millermatic 200 welder is an old-school gem, and is hard to find. It is one of those long-life welders from the 1980s that they don't make any more. If you can help us find one on Craigslist - let us know. We have 3 of these, and we need 6 for the production run. These are our industry standard - until we build our own welders, of course.
True Fans Invitation
Dear True Fans and Supporters,
I am glad to send a few words once again - it's been many months since I spoke to you. Major growing pains this year - and finally, I feel we are stabilizing. I have a special place in my heart for all of you - as the people who truly got this project off the ground. Now we're at the tipping point of viral replication - and my hopes for 2013 are high. See the latest plan + 5 minute video -
http://opensourceecology.org/wiki/Shuttleworth_Fellowship_2013_Submission
Plus – we have just become finalists in the Focus Forward Film Competition with our 3 minute film – Build Yourself:
http://www.focusforwardfilms.com/#finalists
We are pleased to announce the OSE Christmas Gift to the World for 2012
http://opensourceecology.org/wiki/Christmas_Gift_to_the_World
Our gift is - for December 18, 2012 - to build our open source, automatic Brick Press - The Liberator - in a single day of production. We've come a long way since the first build in 2008. The gift means – that with the full documentation that we are providing, anyone in the world can replicate this readily – and in as little as one day with a CNC Torch Table. We look forward to hundreds of replications of the Brick Press next year – and people building high quality housing at low cost.
And you are invited to our 1-day build. We have 10 people participating on site so far, and our max is 16 participants. You can get involved in other ways, too. Modeling, cutting, documenting, remote video editing, tooling upgrades, CAD, CAM, and other topics - you can help us. See the Radical Collaboration section in the last link above.
I look forward to it - let's do it together.
Thanks,
Marcin
Production Crew
Workshop Layout