Samthetechie log
  Want a work log too? See Work Log for howto.

copy-pasta stickie begins
day month ??, 2016
Input
Output
Friday Feb 19, 2016
Input
Output
http://opensourceecology.org/wiki/Warehouse

copy-pasta stickie ends
Friday Jan 29, 2016
Input
Output
Thursday Dec 19, 2013
Input
Need to go to Radioshack in Cameron first thing tomorrow to get a Solder Sucker!
Output
Wednesday Dec 18, 2013
Input
Output
Tuesday Dec 17, 2013
Input
Output
This endstop mount slots onto and then clamps against the 10mm precision rails on which the CNC Torch Table Axes move.
Two #8-32 'captive nuts', need to be fitted into the slots and pushed downwards until their threaded centres align with the teardrop-shaped bolt holes
Here is an example of a captive nut:
Monday Dec 16, 2013
Working/reliable actuator/motor/output from Python code on Pi, time to focus on the height sensor/input
Input
Capacitive Height Sensor
The Ramps 1.4 board contains an unused I2C connector with pullup resistors. This will interface nicely with the AD7747 capacitive sense chip which also has an I2C interface. Pinout for the I2C connector on the Ramps 1.4 board is:
.
The capacitive sensor board will need to be mounted on or near the torch with the capacitive sensor pickup ring surrounding the torch tip. A long 4 conductor flat flex cable extends from the I2C connector J1 on the capacitive sensor board to the I2C connector on the Ramps 1.4 board. A short (~6 in.) low capacitance shielded cable (RG6U Cable) extends from the capacitive sense input to the sensor ring. The shield of this cable connects to the Shield terminal of J2 pin 1 or 3, the inner conductor connects to the CapSense terminal of J2 pin 2. This board has been designed to withstand considerable noise. For plasma cutting additional ferrite will have to be added to the cables and to the entrance and exit of the metal board housing. Board dimensions 0.7" x 1.675". Mounting 2 times 4-40 nylon screws. PCB price estimate from AP Circuits $37 for 3 boards, $21 for 1 board (31 July 2013).
Capacitive Sensor board Schematic:
Top Copper Board Layer: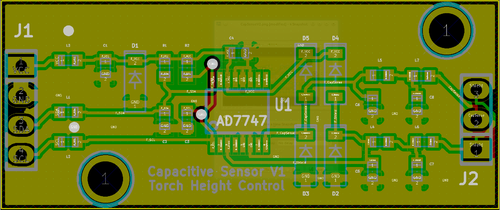 Bom: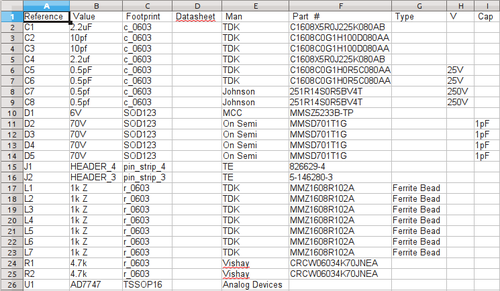 Output
Did all tutorials and learnt how to use https://tinkercad.com/ to rapidly make printable 3d models and upload to thingiverse.
Sunday Dec 15, 2013
Input
Output
Soldered up 3 Opto Endstop Kits: http://reprapsource.com/oe-r1
Calibrated TAZ
Printed parts on Lulzbot, TAZ and Hydrafabber.
Setup Octoprint on Raspberry Pi.
Evaluated Octoprint and conluded that whilst cool it is not sophisticated enough to manage the whole workflow and therefore does not save operator time or reduce complexity
Better results can be achieved by running Repetier Host on hal9000 and controlling the printers from there.
Optimised Repetier Host's Slic3r config using Lulzbot TAZ User Manual.
Setup Repetier Host on hal9000 and printed a doorstop on TAZ
Tried to print a doorstop on Hydrafabber, extrusion was ok but needs light mechanical calibration / checking.
Attempted Repair of Ultimaker. Partial rebuild of bowden extruder and adjusted the filament tensioner. Still appears to have a nozzle blockage or other problem at the other end (i.e. the hot end)! Further Repair / Maintenance Required.
Results at the end of the day: 3/4 of our printers extrude (Lulzbot, TAZ, Hydrafabber), 2/4 are printing well (Lulzbot, TAZ), 1/4 is printing very well (Lulzbot).
Saturday Dec 14, 2013
Input
Hanging out in Hammerspace
Advice on woodstove in Hablab due to Pyrolysis which means that wood near the stove or the flue may become pyrolised to the point where spontaneous combustion can occur far below the normal 'flash point' for wood.
Specs are available via NFPA 211. Stove clearances, flue pipe design and height, insulating boards underneath and against the wall. We should, ideally put a spacer in with
Output
Friday Dec 13, 2013
Input
Output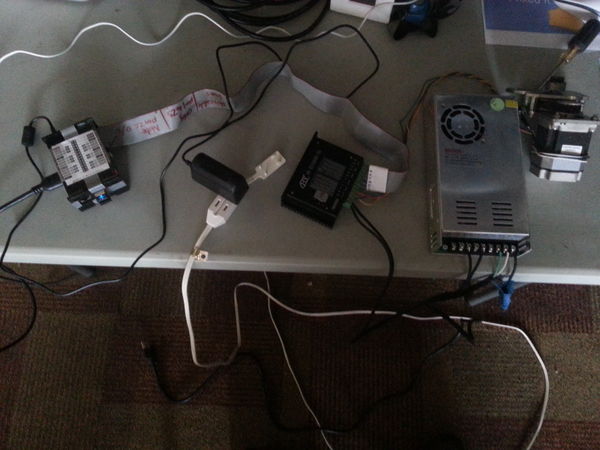 Thursday Dec 12, 2013
Input
Output
File:Wiring and pinouts for table stepper motor testing (rasp pi).odt
A table showing how to connect:
NEMA 23 Stepper Motor (Model 57BYGH317)
Stepper Motor Controller
via a Ribbon Cable to a
Raspberry Pi (Model B, Revision 2.0). Pinout: File:Rasp v3.pdf
Wednesday Dec 4, 2013
Tuesday Dec 3, 2013
Looked at the new controller electronics that arrived in the post from Lasersaur
Looked at the current wiring / config of the torch table.
Made some fresh mesurements on the table and cleaned up my initial Sketchup/CAD models, first version ready for publishing to wiki (note still quite crude, lacks z axis detail): File:CNCTorchTable.skp
Monday Dec 2, 2013
Sunday Dec 1, 2013
Must be able to fail open atmosphere i.e. no valve to vent to atmosphere (pop off valve)
attach the coil/mounting to a bolt-on plate to aid maintenance of the coils.
Idea: multiple taps for multiple water temperatures
Saturday Nov 30, 2013
Friday Nov ??, 2013
Community Video Review
Looking at videos on (youtube et al.) in order to review plasmacutting theory, tips + techniques
Made notes on cutting styles and considerations when using plasmacutting technology, best practises, common maintenance tasks etc.
Thursday Nov 28, 2013
 * Amazon Wishlist for Electronics Workshop / Video ConferenceiHackerspace Setup: http://www.amazon.com/gp/wishlist/2L7MDQ14CC506/ref=cm_wl_cp_al_wlown

There are items in here for settings up an electronics workbench, core dev of the torch table and setting up the 3d printers other items (like an apple keyboard for the mac mini- note: will use the current keyboard/mouse on the mac mini for the lasersaur dev board): http://www.amazon.com/gp/registry/wishlist/2L7MDQ14CC506/
Note: all items have been compared with reviews and I have gone for the best cost/functionality but also with a very slight lean towards "buy once" on some occasions.
Item breakdown by project, totals ~ $1000
Electronic Workbench Setup

PanaVise Model 201 "Junior" Miniature Vise
TRENDnet USB to RS-232 Serial Converter TU-S9 (White)
Rigol DS1052E 50MHz Digital Oscilloscope Offered by Technopark.
Aoyue 968A+ SMD Digital Hot Air Rework Station
Anytime Tools 127 pc Heat Shrink Wire Wrap Cable Sleeve Tubing Sets Assorted Size e/Case Offered by Anytime Tools.
SE MZ101B Helping Hands with Magnifying Glass
Amico 13cm Length Black Anti-static Straight Curved Tweezers 2 Pcs
ESDProduct Rubber Mat Kit with Wrist Strap and 15' Ground Cord, 1/16" Thick, 3' Length, 2' Width
Pittsburgh 6" Digital Caliper with Metric and SAE Fractional Readings
CBConcept Brand Halogen Light Bulb JC 12V 50W G6.35 - Frosted - 10 Bulbs
Professional Jeweler's Lighted Magnifier Visor - 5 Lenses 1.0X to 3.5X
AmazonBasics AAA Alkaline Batteries (Pack of 20)
CnC Torch Table Development

EasyAcc® 12000mAh Power Bank 4 USB 3.5A Output
EasyAcc US 5V 2A Universal Travel AC Micro USB Wall Charger
TP-LINK TL-WR702N Wireless N150 Travel Router,Nano Size
Edimax EW-7811Un 150 Mbps Wireless 11n Nano Size USB Adapter
Video Conferencing Setup

Logitech HD Portable 1080p Webcam C615 with Autofocus
MXL AC404 USB Conference Microphone Offered by Amazon.com.
USB 2.0 A-Male to A-Female Extension Cable (9.8 Feet/3.0 Meters) Offered by Amazon.com.
Apple Wireless Keyboard MC184LL/B
3d printer server Setup

RASPBERRY PI MODEL B 700Mhz; 512Mb RAM
Transcend 8 GB Class 10 SDHC Flash Memory Card (TS8GSDHC10E)
Kingston Digital DataTraveler SE9 32GB USB 2.0 Flash Drive (DTSE9H/32GBZE​T)
Kingston Digital 16 GB Class 4 microSDHC Flash Card with SD Adapter (SDC4/16GBET)
Belkin USB 2.0 4-Port Ultra-Mini Hub
Micro USB to USB OTG Adapter Cable
USB 2.0 A-Male to A-Female Extension Cable (9.8 Feet/3.0 Meters)
C&E USB to Micro-USB Cable - 6 Ft Offered by WellGoal.
ScotchBlue Painter's Tape, Multi-Use, 1.88-Inch by 60-Yard, 1-Roll Offered by Amazon.com.
Building Energy Monitoring
Building thermal performance monitoring and modelling
Measuring building thermal performance: http://openenergymonitor.blogspot.co.uk/2013/09/measuring-building-thermal-performance.html
Every time a print started the z-axis motors were trying to turn faster than they actually could so following http://forum.lulzbot.com/viewtopic.php?f=8&t=85 I set a limiter using m-code: M203
Setting max Z speed in Slic3r? is it possible?
You can set the firmware max speed with an M code:
  X axis: 11,500 mm/min (192 mm/sec)
  Y axis: 12,500 mm/min (208 mm/sec)
  Z axis: 250 mm/min (4 mm/sec)

Then just send the following command to the firmware:
  M203 X192 Y208 Z4

...and now the machine will never move faster than those settings, even if the g-code or printer host software commands it to. The same will probably apply to the TAZ and the HydraFabber printers.
Tuesday Nov 26, 2013
Input
Output
Spare time
Monday Nov 25, 2013
Setup table for 3 3D printers in preparation for them all being repaired and networked via hal9000 laptop/server using botqueue.com
Currently the Lulzbot is online and 100% operational.
The Hydrafabber is untested, the TAZ needs some reassembly and then testing.
The makerbot needs a new thermistor on the nozzle- error message to that effect. Needs testing before ordering parts.
Sunday Nov 24, 2013
Input
Output
Epic: upgrade Hal9000 to latest debian + reinstall fileserver, printerserver, timelapse webcam scripts, 3d printerserver
Saturday Nov 23, 2013
Took the day off to hang out with Mike and Scott!
Took out the recycling (photos + guide to follow).
3D Printed some widgets for the Hablab: 2 x classic reprap coathooks (need to print 2 more!), a mason jar handle (need to print 5 more) and a toothbrush head cover for Mike.
Friday Nov 22, 2013
Input
7:30 am
9am meeting
Marcin asked DPVs: would you update facebook if you were invited. There was a general aye in response.
Marcin request for me to update my log
Feedback on meeting
beginning 15mins of morning meeting was productive: storytelling and task assignment.
Very little Interaction with remote participants, tech issues, mic problems, echo/feedback.
Meeting became less productive for Rob, Katie, Audrey and Sam when the discussion turned to prototyping the workshop stove which is out of scope for all of us except Mike, Scott and Marcin (signal/noise ratio decreased!).
There were no introductions made for Mike, and little to no onobarding took place, morning plan: he will be shadowing Marcin and Scott in the workshop to install the stove and then mabe looking at roads / surfacing.
Reminder: essential to upoload ~9:10am Friday 22nd November 2013 videos / stories to youtube and link from Logs! Source: Stories from this morning are on Marcin's Tablet and Sam's G3.
Key Takeaways:
story telling good
task assignment good
need to stay focused on torch table, process efficiency and general team wellbeing
bail on future meetings at the point when the signal to noise ratio goes down w.r.t. CnC Torch Table (reason: not in scope) i.e. a prototyping meeting style on a module / project I am not working on, this will prevent frustration and save about 50mins of peak concentration/working time / day.
10am to 1pm: Morning work session
Getting distracted by having to answer the telephone and the cat going nuts / running around.
1pm to 2pm
2pm to 5pm: Afternoon work session
Find Mic, Camera and Speakers for Mac Mini
5pm: Free time
Output
Printed out Chris_Reinhart_Log#Longwinded_Debrief_on_FeF_Procedures_after_November_Visit:_On-Boarding_Ideas.2C_Meeting_Titles.2C_and_the_Dinner_Bell to the notice board.
Personally Adopted Chris' Proposed Schedule to maximise personal productivity, thanks Chris!
Updated log from today, pending backlog to update log entries from 19th November to 21st November.
Created a backlog: upload as many stories as possible and link from personal logs.
Started Next task from Scrumy board: https://scrumy.com/samthetechie "Sketchup of Y Axis Drive"
Went on a scavenger hunt in the OSE workshop for electronics parts, brough box of stuff back to hablad in order to make a little nest / electronics desk/woskbench.
Created a list of electronics workshop items to be purchased from Adafruit and Amazon
Fixed Lulzbot 3D Printer: installed new PSU, took off old extruder due to failed resistive heating element and installed new one.
Thursday Nov 21, 2013
Met Mike, our new DPV.
Full day of errands and shopping: car parts, tools, essentials, groceries
Had lunch with Mike and Scott at the Red Barn, later on we went for a beer in Cameron
Monday Nov 18, 2013
Input
Identify Useful Background Material from MIT OCW:
Todo
Done
Physics I: Classical Mechanics (will play videos in hablab in background as a refresher because this is such an awesome course- the teacher is so charismatic :)
Output
Sunday Nov 17, 2013
Input
Sat in on morning standup / scrum. Mostly the discussion was about the Trencher because this was, in fact, a prototyping meeting and not a scrum meeting. Thanks to
Output
Handed scrum master role to Chris for the morning.
Suggested a new process intended to maintain internal narrative / story telling and also external narrative / storytelling: each member of the scrum to tell a story for 2mins, recorded on a smartphone and uploaded to youtube.
Started to make a technology check spreadsheet: to *actually* get a realistic staus check and then target + offer help to teammates that did not install / use the software/process listed here: http://opensourceecology.org/wiki/Onboarding
Went to hide and do background reading on CNC Torch Table ready to start working on it while the others went to the workshop
Katie arrived with the keyboard for the Mac Mini, I installed it ASAP so it is ready for the guys to use during next brainstorm or hangout in the hablab (priority because this was so frustrating yesterday, nobody could connect their laptop to the main screen and it wasted a *lot* of meeting time and energy- thanks again for the keyboard and mouse Katie!) :p
Setup mac mini, named skynet: https://www.youtube.com/watch?v=4DQsG3TKQ0I
Found a load more cables and consolidated into the cable storage at the back of the fablab
Needed to print something for information but could not so I switched back to infrastructure
Plugged the 2D (normal) printer into hal9000 and enabled printer sharing, printer status: working
Plugged the Ultimakers into hal9000
Tested uploading a file to new OwnCloud file server on hal9000
Status on Checklist for DPV Orientation
Done
Start a Work Log according to Work Log Standards.* Begin playing with laser cut foldup models of LifeTrac Construction Set.
Access to Dozuki Wiki, OSE Wiki.
Begin playing with laser cut foldup models of LifeTrac Construction Set.
Backlog
Saturday Nov 16, 2013
Input
Output
Setup kanban board in the hablab
facillitated a scrum at 9am as Scrum Master
Brainstormed with the guys about spool / cable feeding for the trencher
Did a walk around in the hablab to identify things to repair and get to know where things are
Did a walk around the site to get to know the site layout a bit better. Need a guided tour from user:Marcin, will request.
Had a look at the
Helped to pack away the new nuts, bolts and washers that were delivered
Took a ride into town with Katie to look at what was there and get a little bit of local information / orientation
Shadowed and helped Marcin in the workshop a bit, moving metal parts, finding tools, removing
Used the compressed air machine with pnematic parts to assist in cleaning dusty storage boxes.
Reorganised the bolts and nuts and washers by size, type and made it consistent between the shelves
Moved the rollable tool drawers back to their position in terms of the Workshop map.
Hacked the (forgotten) root pw of marcin's oldthinkpad / ubuntu and updated it to Ubuntu 10.0.4
Installed OwnCloud on hal9000
Setup botqueue.com account for our 3 3D printers
hostname: hal9000 (after Hal 9000 from '2001: A Space Odyssey')
Friday Nov 15, 2013
A *really* terrible selfie of me after a very long flight - Day 0 of my DPV!
Sat, Oct 19, 2013
Sun, Jun 16, 2013
Input
AI 1: read updates from Brian, Chris, Cory and Jordan.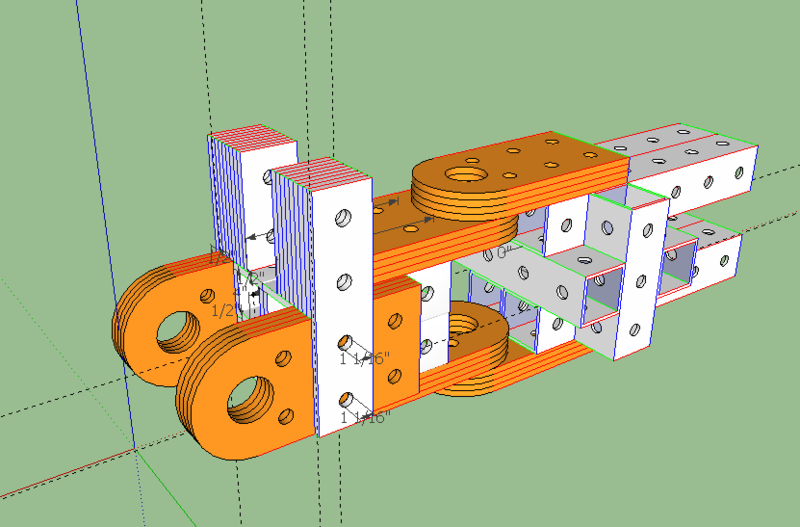 Sat, Jun 15, 2013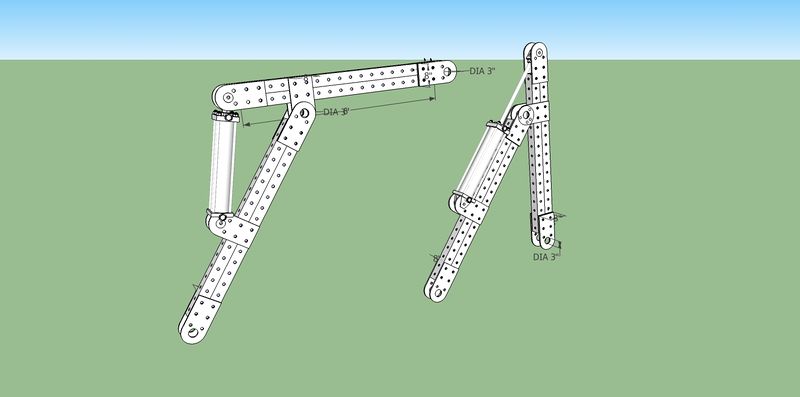 Inputs
Read Updates from:
Sat, Jun 1, 2013
Reviewing Wiki recent changes to get up to speed for this weekend's design sprint.
First Draft of the Hyrdaulic Cylinders:
File:Hydraulic Cylinder 2.5 inch bore 36 inch stroke.skp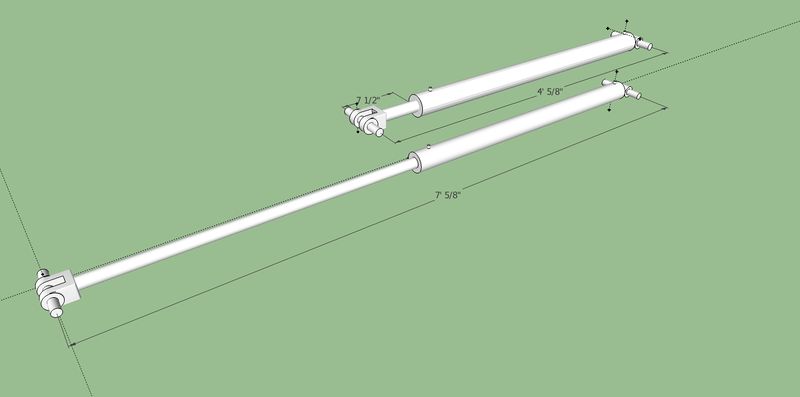 Sat, May 25, 2013
Input
Output
Uploaded some more stock parts / individual components for others to reuse / remix:
Note in the discussion that the modelling is done with 1" x 1" by 2mm thick SHS (Square Hollow Section). It is quite likely that the modelling parameters can be altered to allow analysis of 4" x 4" by 1/2" thick SHS: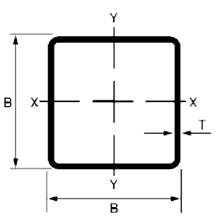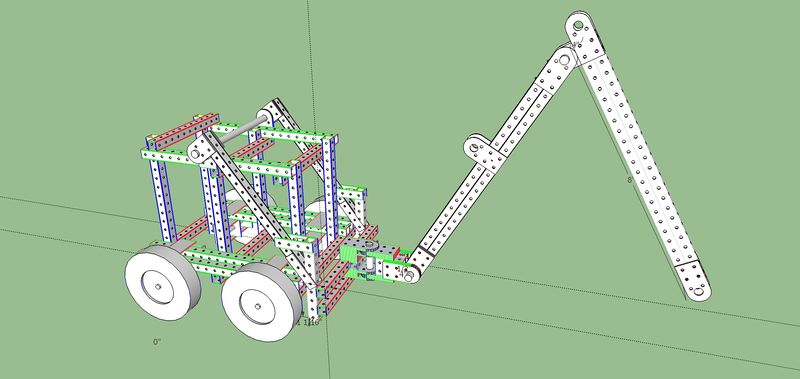 Wrote a quick guide for Sketchup_on_Linux
Note: quick way to grab all the .skp files that have been uploaded onto the wiki.
Go to Special:ListFiles&limit=500&ilsearch=.skp and then using the down them all plugin for firefox and 'fast filtering' with /(.skp)$/
 "A second method for ensuring your edges are aligned to axes is to temporarily change the colors of your 
 edges to reflect their alignment to one of the axis. To change edge colors to reflect axes colors."

Reviewing recent wiki changes and latest pages relating to the Backhoe:
Tues, May 21, 2013
Input
To generate a CAM file for 3D printing, one must consider the 3" tubing and print out a 3" hole, not a 4.875" hole and ensure hole is correct for 3d printed files.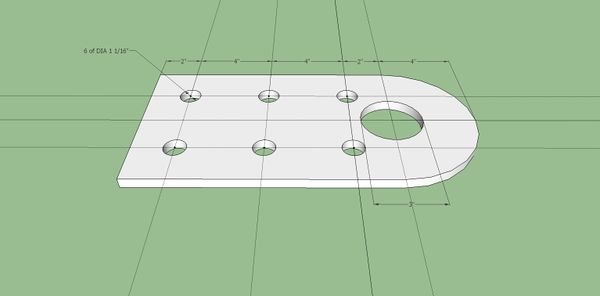 Note: the above is used to generate a CAM file for 3D printing, one must consider the 3" tubing and print out a 3" hole
Ouput
Sat, May 18, 2013
Input
explanation and orientation from marcin about the Backhoe.
shown key documents/resources:
Output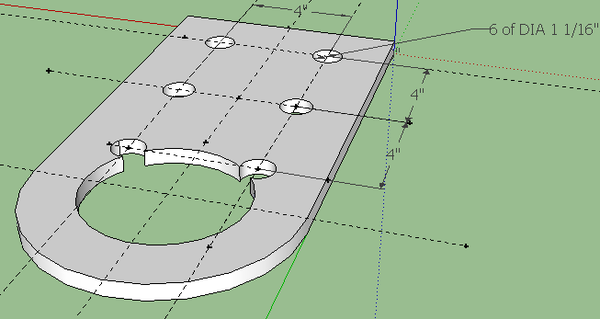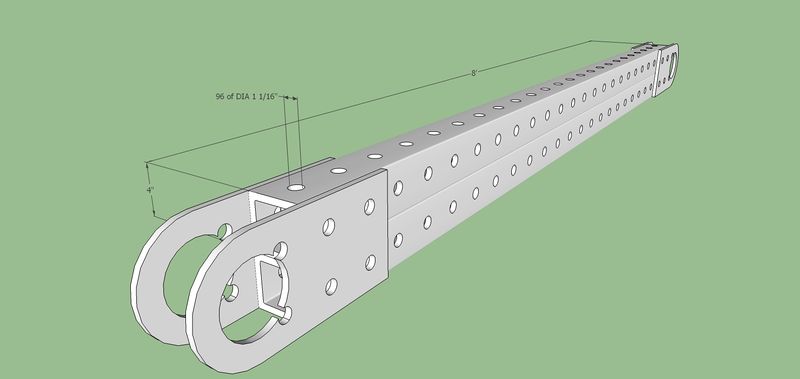 note 5/21/13 - then to 3" pivot hole for rapid prototyping / 3d printing rather than 4.875" as per explanation on Stock_Pivot_Plate