CNC Torch Table 2
The is the main page for version 2 of the CNC Torch Table. See that page for general info and how it fits into the GVCS.

Status

This is the current development version (as of 14th November 2013)!
If you're helping with development, or would like to, this is the version you want.
Join us for this weekend's design sprint and help User:Samthetechie, the current DPV at Open Source Ecology, to hack on the CNC Torch Table 2.
Checkout Development_Status_and_Needs#Sat_Nov_7.2C_2013 for more details.
Checkout Samthetechie_log from 14th November 2013 to 22nd December 2013 for some updates.

Details
The CNC Torch Table allows workshops to create replacement parts on the fly for many of the components used in the GVCS. Additionally, the Torch Table gives workshops the ability to create many of the custom components used in the GVCS Machines. Many parts that make up the 50 GVCS Tools can be cut on the CNC Torch Table, making this machine valuable for replication.
Product Ecology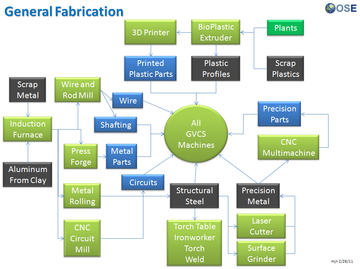 Made with
Creates
See Product Ecologies for more information.
See Also