D3D/fr

La discussion sur le développement a lieu au sein du Development Group. Voir également D3D Log et D3D Performance Log et D3D Serial Numbers pour les machines qui ont été construites. Le journal des performances devrait permettre de suivre les problèmes et être utilisé pour le contrôle de la qualité.

Hint: L'imprimante D3D 3D est une imprimante 3D modulaire et évolutive. Différentes têtes d'outils peuvent être utilisées via un porte-outil magnétique.
Voir Build Instructions. Voir D3D Genealogy.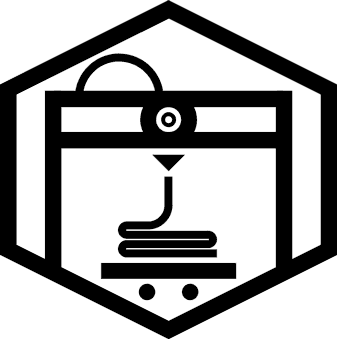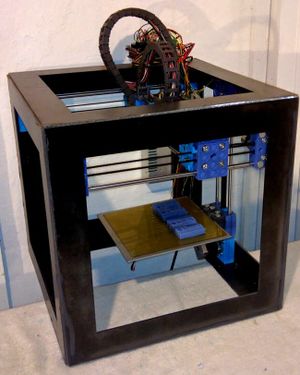 Hint: Pour vous joindre à l'équipe de travail, voyez comment présenter une demande en tant que OSE Developer. Voir le Development Group sur le réseau OSE.
Pour des informations sur la façon de construire les répliques les plus récentes et sur l'effort de développement récent, voir: D3D Landing Page
Les bases
Une imprimante 3D qui utilise le Universal Axis
Il a un faible nombre de pièces par rapport aux autres imprimantes 3D
Il est également plus facile à construire en raison de l'axe identique' et de la modularité globale de la construction
Il peut être converti en de nombreuses autres machines CNC grâce à la tête d'outil interchangeable (Voir le Open Source Digital Fabrication Construction Set )
Membres actifs de l'équipe
Voir D3D Meeting Log pour les membres actuels de l'équipe.
Bibliothèque de pièces
D3D Printer Development Team - Scrum Task Management
Versions
Pour une liste complète de l'historique des versions du D3D, voir 3D Printer Genealogy
v18.06
Cette imprimante a été construite le 2018-06-02 dans un atelier. Pour plus d'informations sur cette construction, voir D3D_Workshop_2018-06-02.
Other Versions
CAD
Overall assembly. File:D3D CAD Assembly.fcstd. See D3D Part Library for spreadsheet of modules and list of 3d printed parts. Note also that the spreadsheet contains ~23kb axis files - which are simplified greatly while retaining onlly the critical design components.
Frame Build
Axis
See Universal Axis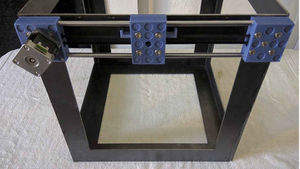 Integration
Intro
D3D is a Distributive Enterprise 3D printer. If the plans are truly open source including the Extreme Manufacturing business model for replication - and if Viral Replicability Criteria are reached - we predict that this will become the most replicated 3D printer in the world within one year of the above criteria being reached. Join the effort as an OSE Developer to make this happen.
Modules
see D3D Modules
Critical Path
Meeting Log
BOM
See BOM Template for more info on how to build a proper BOM.
See D3D BOM
Development Template
Product Ecology
Grinder
Extruder
Filament maker
Enterprise
3D Printed Cordless Drill
Filament Production
XM Workshops
Distributive Enterprise
Scrumy
Working Doc
https://docs.google.com/presentation/d/1zHf2e8NnhYass-unh28YtpV0HR7BcbuvpUVY-5tjd3M/embed?start=false&loop=false&delayms=3000
Replications
See Also