D3D v19.06
Explosion
3D Explosion View - index page - https://mi_shell.gitlab.io/models_online
D3D explosion view model - https://mi_shell.gitlab.io/models_online/ose_webgl/d3d_explosion.html
Build
Build Outcomes
178C heat bed has been validated and perfected. Improvements: shortening insulated nichrome length of heating coil from 12' to 6' to facilitate threading of nichrome through insulation.
Build Notes
Collaboration Areas
Critical Path
Rationale - go to 120V heat bed to reduce power supply size.
Don't include TMC2130 initially as that will take time to optimize, even though it gets rid of the end stops. Use TMC2208 now.
Include clean wiring
Include 3D printed corners
Goals:
Building new heated bed allows for a high performance printer
With 3D Printed control panel, electronics become simpler for builds
Silent operation is a good upgrade
Collaboration
CAD

Hint: Tasks: (1) Updating Y axis holding bracket including 3D printed Corner Fit. (2) New insulated bed. (3) 3D Printed Control Panel. (4) Offset cable chain start piece.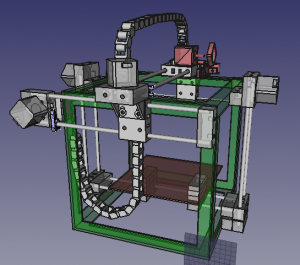 Printer
Design Rationale:
0.26 diameter hole through frame (6.6 mm) and through Y mount to frame
Itemized:
Frame
Carriage
Motor piece
Idler piece
Half-carriage with regular bearings
Rods
Extruder
Endstop
Heated Bed
Cable chain start, simplified
Cable chain end, simplified
Cable chain link, simplified
18 mm bolt
30 mm bolt
Angle for holding X to Y axis
Controller - power supply - borrow from Lyman Filament Extruder
Controller - Arduino
Controller - RAMPS
Controller - LCD screen - reverse engineer from drawing?
Controller - MOSFET
Control Panel
See more at 3D Printer Control Panel
Heatbed
Frame
Extruder
Build Instructions
bom= 50 MM BOLT, 6 mm - for holding down top plate
Frame Build
Control Panel Build
Plug
Heatbed
Current heatbed uses 16 ga steel plate, and the print surface is 1/8" steel plate with PEI surface on top cut to size, attached with 3M double-sided adhesive. The max continuous temperature of this heatbed is 178C, and it heats up faster than the extruder. It overshoots temperature when cycling to set point, which still works but can be tuned. Standard print bed setting was 80C. When attaching the thermistor, insulate it from the nichrome heater so it reflects more the temperature of the print surface, not the heater element. More heatbed build pictures in Google Folder - [13]
BOM
Printed Parts
v19.06 BOM Details
Parts
SSR -
GFCI - [14]
Power Supply - [15]
Nichrome wire 26 ga 12' - [16]
Fiberglass sleeve - [17]
Crimps
Spade terminal brass -
3D Printed Files and Production Engineering
More
---
[10] Idler Piece - File:Universal Axis Idler Side short version.fcstd. 1 - File:Universal Axis Idler Side short version.stl. 10 - File:10 idler pieces.stl
[10] Motor Piece - File:Universal axis motor side.fcstd. 1 - File:Universal axis motor side.stl. 10 - File:10 motor pieces.stl
[50] Cable chain - File:Link.fcstd. 1 - File:Link.stl. 42 - File:42 cablechain.stl
[2] Cable chain end - File:D3dcablechain end.fcstd. 1 - File:D3dcablechain end.stl. 2 - File:2 cablechain end.stl
[1] Control Panel Wire Cover - File:Wireboxcover v1904.fcstd. 1 - File:Wireboxcover v1904.stl
[1] Extruder Bracket - File:E3dtitanbracket.fcstd. 1 - File:E3dtitanbracket.stl. 10 - [[]]
[2] Y-Axis Bracket - [[]]. 1 - [[]]. 10 - [[]]
[10] Belt Peg - File:Peg 8mm rods.fcstd. 1 - File:Peg 8mm rods.stl. 10 - File:10pegs.stl - 6 large, 4 small.
Spool holder
Production Engineering
Wiring
See also Universal Controller
Testing MTA-100 Connectors
Shopping list from Digikey:
Heated Enclosure
Heated Chamber
Prior art - see Heated Build Chamber Patents
Quality Control, Troubleshooting, and Repair
So now you have built your machine and controller. Now here is how to make it work as expected, going through an exhaustive list of potential issues, prior to cleaning up all the wiring.
Quality Control
Suggested Bulk Procedure
Test that power lights on all power supplies

For faulty power supply, connect to the back terminals?

Wires for the power supply to RAMPS - one line for 12V, 2 lines for 24V. Prevents wiring mistakes.
Use ferrules on wires, and only one wire per clamb-down terminal. If multiple, join them elsewhere.
Clear wiring labels

Extruder fan - 1 line on red/black wire
Print cooling fan - 2 lines on red/black wire - or use different color wire
Extruder heater block- should be high t wire, different than others.
Troubleshooting Guide
Covers:
Power supply power cable issues
Cleaning Up the Wiring
The final wire routing should look like this on the control panel:
All wires tight and out of the way
Any wire that is too long is pulled behind the Control panel or near the cable chain and zip tied neatly to other wires or fixing points.
All wiring is kept accessible for repairs and upgrades
A shield is placed in front of the power supply to prevent any shocks.
Wires from stepper motors are hidden along the corners of the frame
Stepper motor wires are oriented so that the closest path to the control panel results.
Code
Printer Profile in Lulzbot Cura for OSE D3D v19.06
Bugs
Windows version software toolchain needs full documentation
OSE Linux needs updating with latest Cura and FreeCAD
OSE Linux instructional for making ISO needs updating
Discourse needs to be set up for Development discussion
Askbot needs to be set up for customer support (and development)
Links
D3D v19.04 - full CAD library for the printer and firmware