Metal Roller
Overview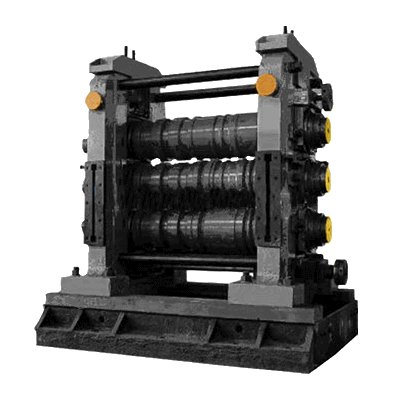 The metal roller sends sheet metal and plate through gaps between cylinders to roll-bend them; this operation is used for producing cylindrical or conical components as well as wiring cylindrical edges.
This roll-bending operation ability is particularly useful for producing standard shapes of metal that would be time-consuming or impossible to form otherwise.
Description
Metal rolling is a centralized industrial process that is done in large-scale (kiloton per day) steel mills. We aim to open-source this technology for use in small-scale (ton per day) flexible fabrication facilities which allow local communities to produce virgin metal from scrap feedstocks.
Description
One type of metal roller uses a pinch rolling operations (lightly grips and moves sheet metal through the machine with a "free" roller to "set" the required bend radius) and pyramid rolling operations (moves plate metal through the machine to "set" the required bend radius). A hydraulically power-driven universal metal roller can be used for all required roll-bending operations.
Solution Statement
The metal roller allows the operator to perform roll-bending operations with ease.
Product Ecology
Made with
Uses
Creates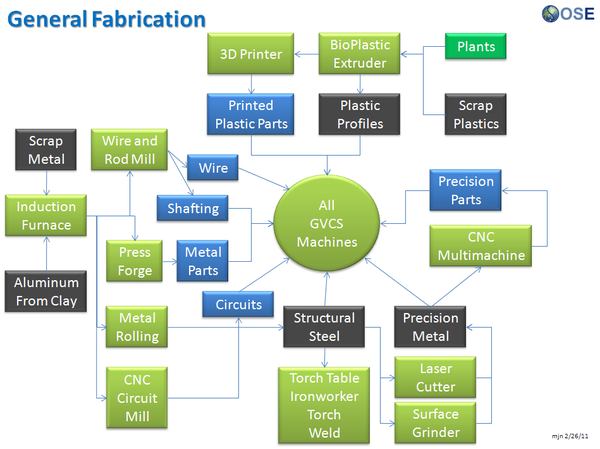 See Product Ecology for more information.
Components
The principal elements of the metal roller include:
Frame: the ground-supported structure upon which the rest of the metal roller lies
Couplers: the mechanisms that convert rotary motion from the hydraulic motor to the cylinders
Hydraulic Circuit: the set of components that powers the hydraulic motor by sending pressurized fluid through its ports, hence producing rotary motion at the motor shaft
Adjusters: the mechanisms that allow cylinder movement for different placement configurations on the plane perpendicular to the axis of rotation
Cylinders: the components that make actual contact with the workpiece for roll-bending.
Status
The Metal Roller is currently in the research phase of development. Prototyping is planned for after product release of the Induction Furnace.
See Also