Spader
Overview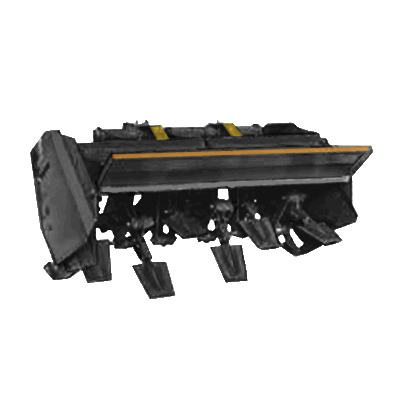 The spader is set of mechanical shovels that prepare soil for planting without causing a hardpan typical of rototiller tilling. Also called a "rotary spader".
Details
Agricultural Spader - This is the most advanced, but least affordable, method of soil preparation for planting. The spader is the mechanized equivalent of several digging shovels. It is operated by the power take off (PTO) behind a tractor. It operates like a rototiller, but with reciprocating spades. It is a superior method of soil preparation for planting - because, unlike a rototiller, it leaves better soil structure without creating a hardpan underneath the tilling layer. Moreover, the spader is capable of deeper tilling. This is the state of art in soil preparation, but few farmers are privy to it because of high cost - $5k for used machines. Our version will be driven by tractor hydraulics, eliminating costly gearing. The fabrication is not straightforward like a rototiller, as the spader spades ride on cams that are offset from a rotating axle. Effective fabrication strategy must be developed. Overall, this would help improve farmers' efficiency. The spader (and rototiller) are a one step soil preparation method - unlike plowing - which is typically followed by multiple disking or disking and harrowing.
They do not leave a "hardpan" due to the somewhat random action of the spades. Spaders are very expensive in north America as they are all made in Italy/Holland etc. (see links below). Inventing an open source spader would be a great achievment. They are a one pass type of implement, allowing easy working in of cover crops into the soil. Towing the spader behind LifeTrac would be easy as spaders are not a real load on the tractor/machine. All that is needed is a slow hydrostatic drive, but we have that covered.
Research
Product Ecology
Uses
Works with
See Product Ecologies for more information.
See Also