Industrial Robot
Overview
The industrial robot is an automated machine that perform a wide variety of functions, (including welding, assembly, and CAM, etc...), all depending on which tools its hand is equipped with.
This is the kind of thing you can do with a top-of-the-line industrial robot.
Detailed Description
The industrial robot is a rotating multi-axis machine that can hold various modules (called end-effectors) for performing different tasks such as welding and cutting. These tasks can be done in repetition (through proper "teaching") and with precision (based on the robot's repeatability, which is a measure of how far the robot deviates from a certain position when going there multiple times). The volume in which the robotic arm can travel is called the working envelope (rear of robot is typically restricted), and the axes of rotation are called degrees of freedom (6 or more for higher-end flexibility). A versatile industrial robot can significantly improve the accuracy, precision, and completion times of multiple production tasks while significantly reducing the need for operator involvement.
The industrial robot is task versatile, multi-way programmable, repeatably accurate, and modular with scalable reach and payload. The industrial robot serves a universal function mimicking a human arm, so can fill in (after being programmed) for any repetitive operation not better done by humans; other times, the industrial robot can be directly operator-controlled to act as a mega-arm machine where the high reach, payload, and working envelope are advantaged.
Product Ecology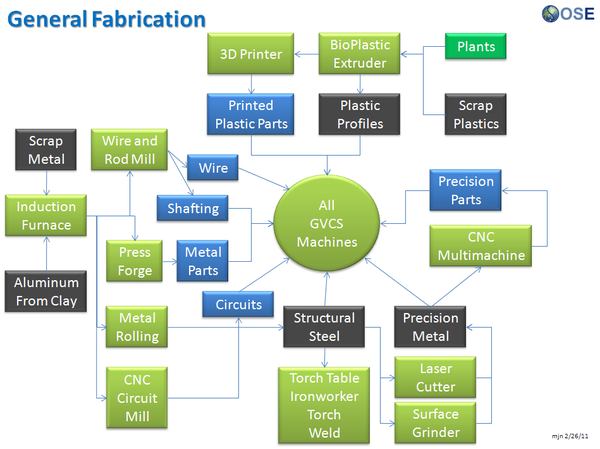 Status
The Industrial Robot is currently entering the prototype phase of production.
See Also
Useful Links