Ironworker/Manufacturing Instructions
Prototype II Blade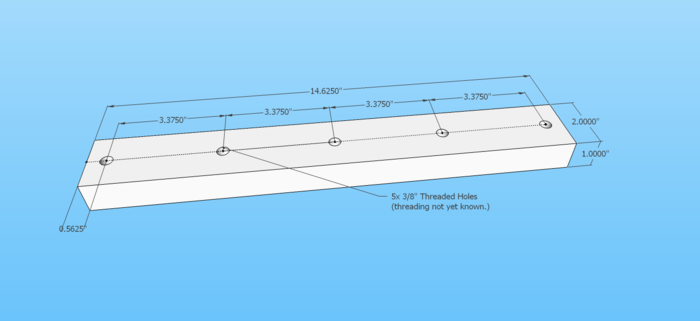 Introduction
See Ironworkers for introduction.
Sketchup of prototype 1:


Note: Prototype 1 Capacity is actually 45 Tons, because the main arm was too thin to withstand warping from pressure. The holes for the main pin, and linkage pins egged from punching holes above this rated capacity. If this arm, and the linkage attaching it to the punch were 1.5" thick, the capacity would jump to 60 tons.
Build
We start the build of the open source ironworker with a 120 ton hole puncher for poking up to 1.5 inch holes in 1" steel (figure based on Edwards ironworkers) plate.
Initial CAD, not finished: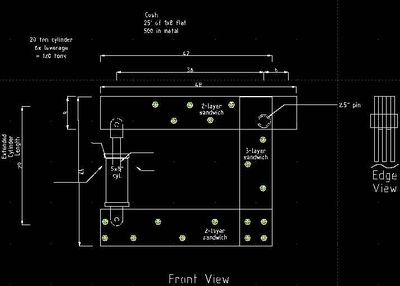 You can download the file here.
Design v0.1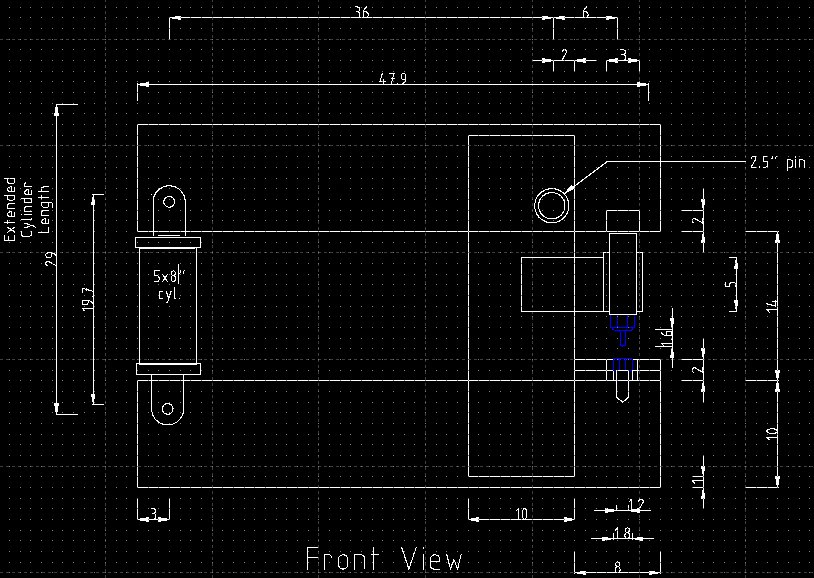 Bill of Materials
5"x8" hydrauilic cylinder
[2]1"x4" pin - for mounting cylinder
[2]3/4" or 1" washers
[2] 1"x10"x48" plate - main parallel pieces
[2] 1"x10"x32" plate - vertical supports
[2] 1"x2"x3" plate - for reinforcement of pressing surface
[4] 3/8"x4"x6" angle, 6" long - for legs
[2] 1"x5"x5" plate - for alignment tube
[2] 1"x4"x8" plate - for dye holders
DOM tubing to hold die - 2" long
Smaller DOM tubing to support die from underneath
2.5" DOM tubing, 5" long - for alignment
2.5" shaft, 7.7" long - for pressing
2.5" DOM tubing, 4" long - for main pin
2.5" shaft, 5" long - main pin
Notes: 1"x10" steel costs $233 if steel is 50 cents per pound.