Power Cube/Manufacturing Instructions
Overview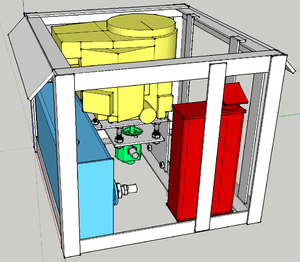 Intro to Power Cube Construction Script
Preparation
Subassembly Fabrication
The purpose of this section is to cut the raw steel into required lengths and shapes as required for final assembly. These step includes drilling and cutting steel up to 3/8" in thickness.
Assembly
Power Cube assembly requires all the parts listed in the Bill Of Materials to be available and prepared as detailed in the "Fabrication" section (above). Assembly requires a welder (electric or torch) capable of welding metal 3/8" thick.
A Power Cube Jig can be very useful during the welding stage:
Final touches
Install engine and secure with bolts, nuts and washers
Connect wiring to key switch and solenoid
Connect fuel line
Connect coupling to engine shaft
Install hydraulic pump on coupling and secure with nuts & washers
Install fan and hydraulic oil cooler
See Also
See also Power_Cube_Fabrication_Procedure for older model.
Work in progress by Tom Griffing - File:Powercube.odtFile:Powercube.pdf
Previous Versions
Power Cube Fabrication June 2011