CEB Press/fr
L'histoire 2012 de la BTC. from Open Source Ecology sur Vimeo.
Vue Globale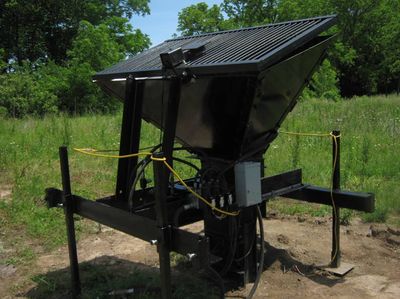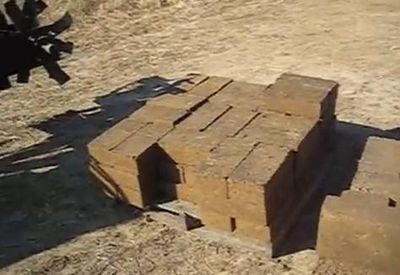 Le "Libérateur" est la presse automatisée et à haut débit de Briques de Terre Compressées. Il est appelé le Libérateur ("Liberator") car il a pour but de libérer du majeur coût de la vie, le logement. Voir Cost of Living et GVCS Naming Convention.
La presse à BTC est au statut de produit disponible et est activement produite à la Factor e Farm. Les presses ont été fortement utilisées lors des Factor e Farm Infrastructure Buildout 2011. Voir aussi les coupures de presse sur la construction de la MicroHouse 4 construite en 2014 - [1]
Le montant total des matériaux est de 3000 à 5000 US$, selon la version et le processus de construction. Les différentes versions de la machine comprennent:
des contôleurs manuels hydrauliques
digitally cut parts or stock steel sections
small or large hopper
with or without hopper shaker
automatic controller at 5 bricks per minute
automatic controller at 10 bricks per minute
We are currently selling the full machine for $11k (specifications below). Our next production run will be in April, 2015, and we are currently accepting orders. Terms are 1/2 down payment to secure the order and the other half, including shipping cost, paid after machine completion and prior to the shipment. Proceeds are put back 100% into the operation to fund further research and development. - updated Jan. 23, 2014
Spécifications
Version 6 is our current model; exhaustive documentation release comming 4/30/15
Open source hardware, controller, and software (CC-BY-SA, GPL)
Controller includes automatic pressing and manual mode
Does NOT come with a power source - it is powered by a hydraulic power source, such as by our Power Cube or a tractor hydraulic take-off.
Full size bricks are 4"x6"x12", plain flat-faced bricks
Brick height is adjustable from 1"-4"
Brick dimensional variations: +/- 1/16". Soil uniformity will determine height uniformity of brick.
6 full-sized bricks per minute at 14 gallon per minute hydraulic flow. Brick pressing rate will increase with a higher hydraulic flow, up to the maximum rated flow of the hydraulic solenoid. At a flow >14 gpm, the secondary cylinder and shaker motor are throttled down to reduce their speed. Hydraulic solenoid valve is rated for a maximum of 30 gpm fluid flow at 3000PSI
Fuel consumption with Power Cube running at 14 gpm fluid flow - about 1 gallon per hour
System hydraulic pressure - 2300 psi
Comes with hydraulic quick couplers ready to be connected to a power source
Weight - 1700 lb
Moving: brick press is moved with forks. Footprint (with legs in the inner position) allows machine to be placed in the bed of a 3/4 ton pickup. It has adjustable legs for uneven terrain. Machine can be moved around on a trailer (not included)
Material cost: $4500-$6500 depending on sourcing; manual machine (without hydraulic solenoid, machine costs $1000 less in materials
3'x6' grate for tractor loading. Includes soil deflectors
Includes hopper shaker to help soil move down the hopper
Known bugs: machine has currently been tested in multiple day production runs and is stable at 6 bricks per minute. When solenoid valve ran with 2 Power Cubes at 28 gpm fluid flow, the valve would lock up from time to time. May be software, solenoid design, or Power Cube stacking issues, and requires detailed analysis. This bug was not seen when a larger diesel engine was used to power the brick press in 2010 at 30 gpm fluid flow.
Versions
Détails
The CEB Press takes earth/dirt/soil and compresses it tightly to make solid blocks useful for building. Compressed earth blocks have many advantages as a building material: by making the building materials from the readily available dirt on the building site, they eliminate the need to transport bricks from elsewhere, reducing financial cost and environmental impact. Compressed earth blocks are very strong and insulate well against both heat and sound, making for very energy-efficient building (especially combined with the energy savings from not needing to transport them from offsite). Best of all, the material they use is already on-site and does not need to be purchased -- quite literally, dirt-cheap! See the wiki page on Compressed Earth Blocks and the CEB category for more details on building using CEBs.
The Liberator has been fully designed and tested by the Open Source Ecology team. Because the Liberator is an open source technology, you can freely download instructions to build your own from materials you can obtain yourself, or contact opensourceecology[at]gmail[dot]com to buy a kit or a finished machine.
Building a machine yourself might seem intimidating, but every step of the process is fully documented and the OSE community is available on our discussion forums if you need help, advice, or a little hand-holding.
Using the CEB Press, two people can build a 6 foot high (1.83m) round wall, 20 feet (6.1m) in diameter, 1 foot (30cm) thick, in one 8 hour day, though construction time will vary somewhat depending on preparation time, what equipment is available (tractor to prepare the ground and move the blocks where they need to go), the quality of the soil, and other factors. The bigger the block size, the faster a wall can be erected, but at the cost of heavier blocks that are more of a strain to work with. Blocks from The Liberator average 25 pounds (11.3kg).
See CEB Design for more information.
écologie des produits
Permis par
Utilise
Crée
Permet
Voir aussi