LifeTrac/pt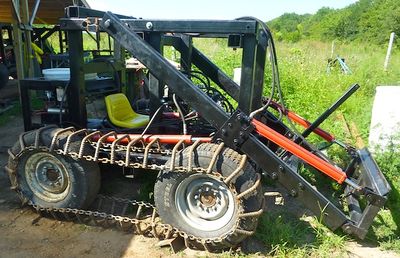 Overview
Esta página pode conter textos com partes em inglês e português pois esta em processo de tradução."

LifeTrac é um trator de baixo custo, multiuso e open source. Ele tem a função de espinha dorsal do GVCS devido a possuir tecnologias que são usadas em várias outras máquinas.O Protótipo III foi concluído, contudo, alguns testes de campo apontaram para a necessidade da criação do Protótipo IV antes do lançamento do produto.
Featuring a modular design and detachable PowerCube units, it has the ability to rapidly switch between a variety of GVCS machines via the QA Plate. The machine is overbuilt with a focus on lifetime design and ease of repair.
Four hydraulic motors provide skid steer power to the wheels, and a chain tread system enables navigation of extreme terrain.
Product Evolution
Use the Product Evolution tree below to learn about the different versions of the LifeTrac and how far they got in product development (shown in italics). Follow the arrows to see where branching occurs. The dashed outlined represents the most complete documented version to date and tested at FeF.
Status
2012-01-27: Currently the Lifetrac III is undergoing documentation. LifeTrac IV is in development as a retrofit of LifeTrac III but with improvements to bent loader arms, quick attach wheels and a new Bobcat standard QA Plate.
The LifeCat 1.0 was started as a new design that will strictly be a skid steer and not try to combine skid steer and tractor capabilities.
OSE Europe will likely be developing a tractor as well with standard two-wheel drive or articulated steering based on tried and proven designs in history.
Safety Concerns
No structural engineering analysis has been performed on the LifeTrac III or IV. If you choose to replicate this product you are doing so at your own risk and with this understanding. We will be performing analysis soon and will post those results as we get them.
There is also an email to OSE Europe mailing list describing some concerns about LifeTrac safety of use, and points out possible issues with: Frame, Steering, Brakes and Roll-Over Protection.
Product Ecology
Videos