CEB Press Sandbox
Last upddated Dec. 23, 2012.
Introduction
The Liberator is OSE's automatic, high throughput (up to 16 bricks per minute) Compressed Earth Brick Press. It is named The Liberator because it is intended to free people from the single highest cost of living - housing. See Cost of Living and GVCS Naming Convention.
Status
Prototype IV built in a Collaborative Production Run. Build and use the CEB Press to make Compressed Earth Blocks to make all sorts of structures!
Mechanical
---
Grate (including deflectors, hinges, and supports)
CEB Hopper (including saddle)
CEB Shaker (including shields)
CEB Legs (including holders and feet)
CEB Outer Frame (including drawer rollers and shields)
Hydraulics
Quick connect fittings and modular solenoid valves are used for easy modification.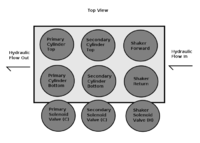 Electronics - CEB Press IV
12V Battery or Power Supply suffices. Peak current is <5A.
Hall Effect Sensor Module (x2, with 20mm dia mounting hole)
Terminal Case x1 with 300mm x 150mm area x 50mm height working volume
Terminal Block x2 with 120mm length x 25mm width
Arduino Uno R3 Board from NKC Electronics via Amazon
Code
Testing and Operation Code - Last Updated November 25, 2012
Arduino Uno R3 Board from NKC Electronics via Amazon
How to upload code to the Arduino microcontroller
Code Functions
Sensor signal strength monitor
Sensor latching monitor
Cylinder full motion-sensed cycling
Continuous brick pressing
Code Features
Boolean menu and important variable values at beginning of code!
Motion-time-calculated compression and release durations
Serial write feedback during testing and operation!
Multi-sample-averaged sensor signal processing!
Proper motion ordering for minimum-trouble operation!
Testing
Avoid excessive hydraulic pressure! Make sure you have a correctly installed pressure relief valve on your hydraulic circuit. Start testing the CEB Press with a low pressure setting on the pressure relief valve.
Avoid hydraulic fluid leaks and non-motion! Check that all hydraulic connections are tightened/connected and theoretically leak-free.
Avoid premature sensor latching! Check that the sensors are mounted parallel to the magnets. Sensor should be not too close but not too far from magnets
Make sure that the middle primary magnet is passed by the end of the primary cylinder's compression motion
Collaborative Production Run - September 24-26, 2012
See also CEB 4 Design Planning (June 2012) and CEB Press Collaborative Production Results.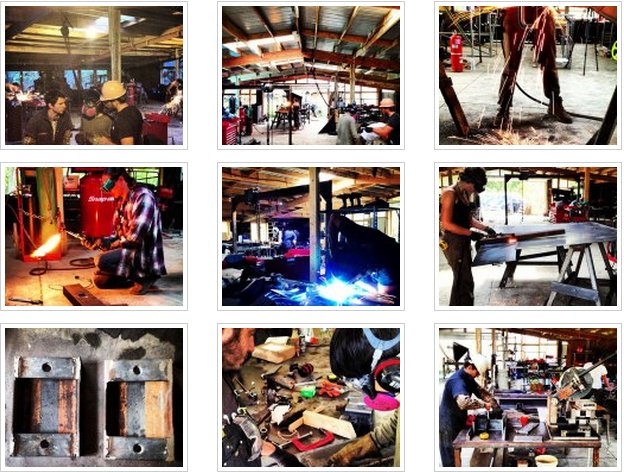 More images on Facebook.
Collaborative Production Run - November 23, 2012
November 23, 2012 Collaborative Production Run
Overview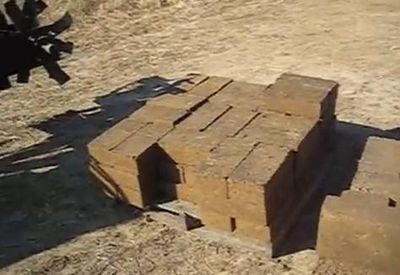 The "Liberator" Compressed Earth Block Press is a machine that makes compressed earth blocks (CEBs).
The CEB Press takes earth/dirt/soil and compresses it tightly to make solid blocks useful for building. Compressed earth blocks have many advantages as a building material: by making the building materials from the readily available dirt on the building site, they eliminate the need to transport bricks from elsewhere, reducing financial cost and environmental impact. Compressed earth blocks are very strong and insulate well against both heat and sound, making for very energy-efficient building (especially combined with the energy savings from not needing to transport them from offsite). Best of all, the material they use is already on-site and does not need to be purchased -- quite literally, dirt-cheap! See the wiki page on Compressed Earth Blocks and the CEB category for more details on building using CEBs.
The Liberator has been fully designed and tested by the Open Source Ecology team. Because the Liberator is an open source technology, you can freely download instructions to build your own from materials you can obtain yourself, or contact opensourceecology[at]gmail[dot]com to buy a kit or a finished machine.
Building a machine yourself might seem intimidating, but every step of the process is fully documented and the OSE community is available on our discussion forums if you need help, advice, or a little hand-holding.
Using the CEB Press, two people can build a 6 foot high (1.83m) round wall, 20 feet (6.1m) in diameter, 1 foot (30cm) thick, in one 8 hour day, though construction time will vary somewhat depending on preparation time, what equipment is available (tractor to prepare the ground and move the blocks where they need to go), the quality of the soil, and other factors. The bigger the block size, the faster a wall can be erected, but at the cost of heavier blocks that are more of a strain to work with. Blocks from The Liberator average 25 pounds (11.3kg).
See CEB Design for more information.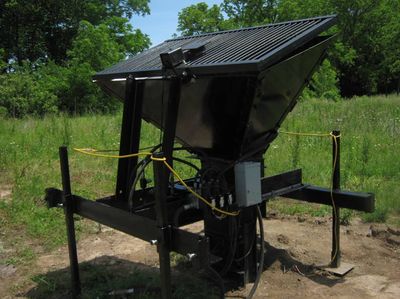 Updates
Videos
Product Ecology
Product Ecology
CEB Press
From
Uses
Creates
Enables

Components

Hopper
Grate
Hopper shaker
Frame
Compression chamber
Hydraulic Cylinders
Solenoid controller
Soil Drawer
Status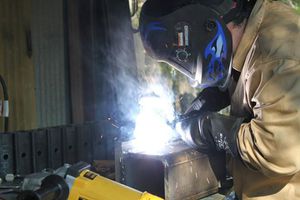 See Also