Gasifier Burner/Research Development
---
Study of Industry Standards
Design Criteria
The gasifier should be designed in such a way that it can satisfy a specific set of use cases. These use cases should consider the availability of three products produced by the gasification process, namely Heat, Ash or char and combustible gases.
Use of excess heat:
heat air in a shelter
dry fuel for the gasifier
Use of ash and char:
soil amendments
lye production for:(ash may have to much carbon for quality lye production)
Use of combustible gases:
Steam Generator
Power Cube
Truck
Car
Kiln
Portability
Unit should be available in both portable and fixed arrangements. portable configurations should enable vehicle (trailer?) mounting. reactor module design could be impacted. Will refractory cement handle the jostling around?
Modularity
A good design should allow for flexibility in design variability without loosing compatibility between the various components. This need may be more pronounced during development. modules include:
fuel bin

different Sizes
Autoloading? (designed with this in mind not necessarily needed)

reactor core and ash collection

variability in configuration depending on feedstock
hearth material may vary depending on portability

cyclone filter
gas cooler
filters
manifold for gas delivery (optional)
flare
Capability
How large a generator should this unit supply? A gasifier operating above designed capacity can cause damage to the reaction chamber and grate and operating significantly below capacity can lead to high tar production, the most difficult problem facing engines ran on producer gas.
Other Considerations
ability to interface with:
screw type ash cleanout
auto fuel loader
Research
Gasifier construction set: [2]
Mike Koch's gasifier, U. Missouri, Columbia, 2008 Capstone Project, Mechanical Engineering: [3]
A gasifier can also be used to make biochar. Here are some simple design examples for charcoal/biochar-producing biomass gasifiers:
Build and design documents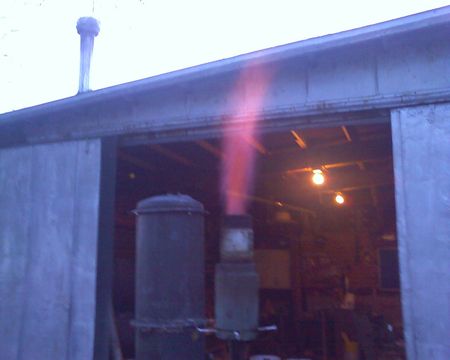 Conversation with Ben Hansen
Ben is building a 40 kW gasifier CHP system, and may be interested in a steam engine
Packed bed, downdraft:
Modified fluidyne gasifier.
Doug Williams – fluidyne gasifier - http://www.fluidynenz.250x.com/
Fab shop in Viroqua – friend of Ben – Roger Tullifson, Tollifson repair– did a heat exchanger for diesel exhaust.
Dig up solenoid valves contact – some open source people
GEK Gasifier powering a Car
Prototypes
Prototype I - Larry Dobson's Roundy
Gasifier_Burner_with_Heat_Exchanger_Prototype_I
See Also
GEK Gasifier powering a 6 hp combustion engine
See Also
Useful Links
[5] paper on development of gasifier designed to run on fecal matter