Power Cube
Powercube v7 Assembly. from Open Source Ecology on Vimeo.
The Powercube is a modular engine unit that powers all mechanical machines in the Global Village Construction Set.

This tutorial demonstrates how to assemble the Powercube v7 once all components have been sourced and fabricated. To see the full Powercube v7 designs, go to www.opensourceecology.org/wiki/Powercube_7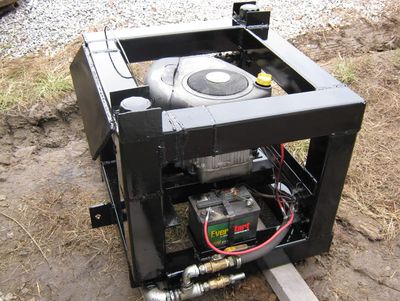 Overview
Note: The current version as of June 2015 is Power Cube v15.6 as under Versions below.
The Power Cube is a modular, universal, self-contained power unit consisting of an engine coupled to a hydraulic pump, providing power from hydraulic fluid at high pressure through quick connect hoses. It is designed to function as a modular and interchangeable power supply for Global Village Construction Set (GVCS) technologies.
Details
The Power Cube was designed in accordance with OSE Specifications for maximum utility. The Power Cube features...
Modularity - String multiple power cubes together for increased hydraulic power.
Flexibility - Quick Connect hoses and Quick Attach Plate enable extreme flexibility to place power wherever it is needed.
Ease of Repair - All engine components are easily accessible and fast to replace/repair with off-the-shelf parts or locally produced equipment.
Versions
Product Ecology
The current iteration of the power cube is an off-the-shelf gasoline engine, but the design is intended to be as power source agnostic as possible so that the power production can be readily changed. There will likely be many variations on the power cube design, but all fitting inside a similar size profile so that one GVCS machine can readily swap out one Power Cube for another.
Video (Older Power Cube Designs)
Development Status
Currently, the Power Cube is in development to product release, after numerous prototypes. See Status of Completion
See Also
Useful Links
Links