Global Village Construction Set
Template:TED Talk
Definition
The Global Village Construction Set (GVCS) is a modular, DIY, low-cost set of blueprints that enables fabrication of the 50 different Industrial Machines that it takes to build a small, sustainable civilization with modern comforts. The name, GVCS, has been coined for the first time in 2008 - at a lecture at the University of Missouri, Columbia - see UM Presentation.
End State
The above paragraph is a brief summary, but the goals of the GVCS are much larger. In 2019, our Vision has been reframed to collaborative design for a transparent and inclusive economy of abundance. The GVCS remains at the center of that. However, one cannot build sound technology without building sound people. Open, transparent collaboration includes developing the human aspect - in terms of soft skills to collaborate, be vulnerable, have self-esteem, have a growth mindset - the soft requirements for any Super-Cooperator. OSE strives to produce Integrated Humans who have both the hard and soft skills to make a better world - as movement entrepreneurs whose life revolves around solving pressing world issues.
Currently there are several, outstanding, unconscionable aspects of civilization: continuing ecocide, war, consumerism, poverty, poor distribution of wealth or access, ignorance - see Pressing World Issues. The world has improved to more liberty for more people, but many are left behind. These are easily solvable by taking on a fundamental approach, such as planting trees, open-sourcing the economy, and learning to grow as humans. These solutions are very easy and very hard at the same time.
At the core, OSE's work requires human evolution for a transition from a proprietary, military economy - to a collaborative economy.
With great power comes great responsibility. Economy of abundance in our vision statement is a rigorous requirement that implies wisdom towards efficient production of basic needs, as a basis for Self-Determination.
When exactly do we say that the Global Village Construction Set is complete - that we have succeeded? It is when:
All the 50 technologies of the GVCS are finished, to the point of economically-feasible business models being developed for each machine or product ecology of machines. Further, derivative industry is open source, such as materials production - which is a derivative of the productive capacity of the 50 GVCS machines. For example, the CNC multimachine can make motors which can make vacuum pumps, which combined with construction equipment can make clean rooms for making semiconductors or medical equipment.
Anyone has access to build any product anywhere in an open source microfactory, which is powered by a repository of global, collaborative design and open source production tools. This means that any place in the world has a realistic capacity to create a modern economy if it chooses to do so, without having to make compromises of a typical Technology Colony.
All infrastructure-building tools to start villages, micro-states, farms, factories, civil works, land restoration operations, and any other human infrastructure - can be built at low cost using best-practice, open source techniques and equipment.
We have succeeded in implementing a globally-distributed teaching infrastructure for regenerative enterprise. Hundreds of land-based, OSE facilities are built around the world - as land-based campuses somewhat like a university campus - which are fully regenerative global villages that thrive in harmony with their natural life support systems. These are places of real life, learning, and activism - with an explicit purpose of solving pressing world issues. Imagine going to college, where as a result - you end up not as a quant or symbolic analyst in a cubicle - but as a hands-on builder of a new world: a person who leaves college pursuing solutions to pressing world issues, and getting involved in a full time-effort of such transformation. Why the OSE campuses? Because sometimes transformative work has no money in it. The status quo does not pay change-makers to subvert itself. So the OSE Campus is a facility where people contribute 2 hours of work per day to guarantee thriving based on physical needs, and the rest of the time is spent in pursuit of self-determination. See Open Source Philosophy video for the 2 Hours of Work Per Day, whether it's people in huts like Marcin in 2006, or people in Seed Eco-Homes or Eco-Mansions.
Numbers-wise, Distributed Market Substitution is growing as an exponential occurrence, with billions worth of markets already substituted on 3-year timescales.
A large number of people are trained in Collaborative Literacy, and thus engage in open source product development as the new norm - about 10% of all human enterprise across sectors (mining, manufacturing, governance, financial, agriculture, services). Open publishing is the norm.
Mass creation of right livelihood has begun in earnest, and people have a fair chance to do what they love for a living
Modular, open source standards are common, such that planned obsolescence - as occurring by virtue of black-boxing, self-destruct parts, changed form factors, proprietary software, non-interchangeable parts, hard to find parts, expensive parts, design-for-non-disassembly, easily-breakable parts, inferior materials, and others - are design, and other bad design - has ceased to be a dominant factor in one's Cost of Living.
All pressing world issues mentioned above are in being solved in significant ways (such as Gini Coefficient rising at least to pre-industrial levels), species extinction ended, clean energy provided to all, Fab Cities as the new norm, as general self-determination replaces current alienation of people from themselves, from others, and from nature.
We envision a life where a 'job' is replaced by 'living fully' (while 'making a living'). Where the office cubicle is replaced by your home office. Where manufacturing as we know it is replaced by microfactories and Fab City. Where people pursue self-determination (autonomy, mastery, purpose - which assumes unleashed innovation and creativity). And where the massive gaps between the haves and have-nots have been replaced by open access. Where institution of power concentration have been replaced by institutions of open collaboration. Where fear is replaced by love. Where selfishness is replaced by connectedness. Where the rigorous condition of abundance has replaced scarcity thinking. Where the cookie cutter urban sprawl has been replaced by regenerative design that includes nature. Where a throwaway, consumer society has been replaced by a producer mentality and lifetime design. Where if you want to get a car, you can build one at your local microfactory to meet your exact needs, guided by your friendly teaching staff - or you can at least participate as much as you like (from 0 to fully) in its production. On first principles, this is all inevitable in a Kardashev Scale <1 earthling civilization - there is plenty of energy - about 10,000 times more energy comes from the sun to the Earth than civilization uses today..
Introduction
Marcin Jakubowski explains the Global Village Construction Set in his TED Talk.
Can't see the video below? Try: http://www.ted.com/talks/marcin_jakubowski.html
Want to know more? Explore the Global Village Construction Set tech tree.
Want to contribute? Sign up for OSEmail to get monthly updates.
Completion Status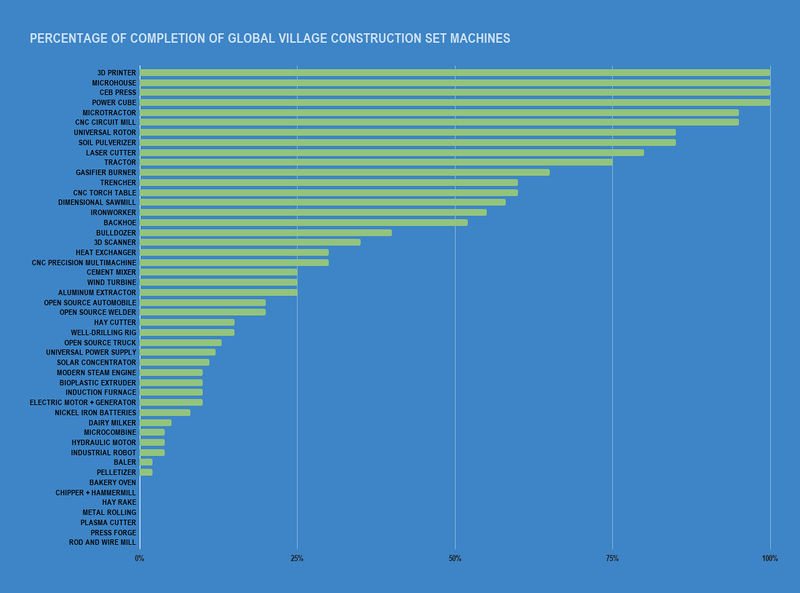 See GVCS_State_of_Completion for the history of the completion status.
Prototypes - Visual Status
Items prototyped are in red. State in 2018.
Timeline
(needs updating since 2014 - see blog or [ FB] for updates.
The Open Source Ecology experiment was formulated in 2003. The practical experiment began on a 5 acre parcel on the outskirts of Madison, Wisconsin, USA. Networking with early collaborators, the project found its new home on a 20 acre parcel in Osborn, Missouri. In 2006, the project moved to its permanent location in Maysville, Missouri - to Factor e Farm - birthplace of the Global Village Construction Set.
Media
See GVCS TED Talk
Key Features
GVCS Machines
See main article GVCS Machine
OSE is developing 50 machines of the Global Village Construction Set via module-based design. This means that we break machines down into modules, and each module can be developed in parallel with other modules. Examples are CEB Press or Tractor.
The exact list of GVCS machines has evolved over time and is still subject to change. For example, while the MicroHouse and the Car are not GVCS machines in a strict sense (but products created by GVCS machines), they are treated as GVCS machines for historical and business-oriented reasons.
Documentation is found at different places for different target groups:
See Also