Bioplastic Extruder/Research Development
Overview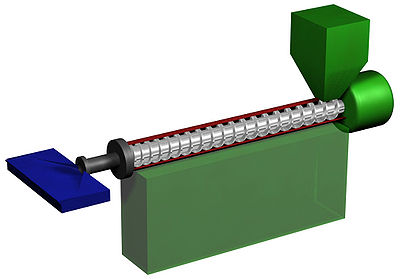 Bioplastics
Cellophane is reformulated cellulose (wood), produced via an acid and base dunk of sawdust. This may be used in glazing. Car bodies may be made; the original car bodies for Ford were soybean-derived bioplastics.
Polylactic acid (PLA) can be made by fermenting starch or with hay in silage.
Mycelium can be placed in a mold with grain husks, wheat straw or any of a wide variety of other biomass (with different end product results) and be made into a variety of useful products, including a durable closed cell foam substitute.
Links
Open Source Extruders
Precious Plastic - prototype filament maker. Note that the hopper feed mechanism appears to be robust, so that regrind can be used readily.
Plastic Lumber Version Of the Precious Plastic Design
Compare to Lyman Filament Extruder, which works well with pellets, but it is not clear if it would work robustly with regrind.
Co-Extrusion
Do different plastics mix well for making 3D printing filament? Yes, there are good combinations shown at [1]
Good examples: PC/PET, ABS/PVC. For PC/PET - that could be a good combination mixing best properties of both.
See Also
Industry Standards
Horsepower, heating power, and screw size will determine throughput.
Extruders on Ebay - $3k up - 30 hp motor, 1.5 - [2]
Greiner-GCE-30-F-CO-Extruder-Plastics-Processing-Machine-30mm-1-1811-034-Screw - $4500 on Ebay - info PDF - [greiner-extrusion-group.com/files/greiner/downloads/Greiner%20Extrusion%20Group_Fact%20Sheet%20Co-Extruder_GCE_DE_EN.pdf]. Smallest one is 10kW - 5kW motor, and 2 zones of barrel heating at 1 kW each, and 2 zones of toolhead heating at 1 kW each.
Related search that may be useful or merged/integrated