LifeTrac III/Research Development

Tractor Research and Development
Design
Specifications
| Speed | 5 mph in 4 wheel drive |
| --- | --- |
| Power | Power Cubes, 14 gpm auxiliary hydraulics per Power Cube, 1 channel |
| Motors | Four 32 cubic inch hydraulic motors |
| Weight | 3000 lb |
| Attachment | QA Plate |
| Modularity | Power take off, hydraulic - 0-700 rpm |

LifeTrac IV Design Analysis - Design Analysis for the next generation of the LifeTrac
Research
Goals
Lifetime design
Scalable
Modular
Easy to maintain
General design goals
Skid loader concept
Articulated steering
4 wheel drive
2 wheel drive for doubled speed
Front-end loader
Backhoe attachment available
Well-drilling attachment available
CEB attachment available
Hybrid between a skid loader, agricultural tractor, and construction tractor
Features
The LifeTrac tractor has a number of features that set it apart from traditional skid loaders, making LifeTracs suitable for agriculture. Its main features for use in agriculture are a 3-point hitch, power takeoff, and high-flow hydraulic takeoff. These features allow the LifeTrac to use a variety of agricultural implements. Its hydraulic drive eliminates the need for a transmission, eliminating a common source of expensive breakdowns in traditional commercial and farm tractors.
LifeTrac is designed with a winch, and is also designed to be equipped with well-drilling equipment with 10-foot drilling pipe sections.
These features give the Lifetrac high utility and versatility, combining the power of skid loaders with the multi-purpose utility of agricultural and construction tractors. The Compressed Earth Block press and backhoe are also designed for compatibility with the Lifetrac.
The unique features of the Lifetrac are its do-it-yourself manufacturability, modularity and design for dis-assembly. Priority one is lifetime design, where the tractor can be built and serviced by a person with minimal capital for materials and problems can be troubleshooted and readily repaired without the many tens of thousands of dollars to buy a new or even used tractor and thousands more in expensive repairs when something breaks down.
Components are made of standard steel wherever possible, with the goal of enabling any user-owner to perform their own maintenance. No issue in LifeTrac should be more expensive than US$250 to fix. Standard steel components (sheet, tubing, shaft, etc.) are used for repair and construction of the OSTrac, with no forming or machining outside of minor welding and lathing.
Evolution
Flash-steam bladeless turbine drive being explored
Flash-steam electric hybrid drive being developed
Wanted: Brief description about the highest version of the LifeTrac
Theory
Wanted: Brief paragraph regarding the reasoning behind adding this tool to the GVCS
Relevant Links
Wanted: Sources for information regarding relevant technology
Conceptual Notes
Wanted: Ifs, ands and buts.
Development
For us at Factor e Farm, LifeTrac will be the backbone of our agricultural, agroforestry, and land stewardship operations. It will also be used in construction, power generation, and possibly other workshop tools. Interestingly, hybrid hydraulic drive also applies to cars - here's an example [1]. The identical hydraulic design, minus agricultural implement features - can be used with a car - simply by using faster, lower-torque wheel motors.
The basic drive is all hydraulic, and all implements are run hydraulically as well. Three hydraulic motors - PTO motor, high torque motor, and winch motor are used for accessory power applications. These can drive the following devices which we are also building contemporaneously:
Other implements that we are preparing are:
The unique feature is that the motors can be mounted on the front-end laoder quick-connect plate - which serves, in effect, as an implement attachment mechanism that is much more versatile than a tractor 3 point hitch. All implements may be mounted on the quick-connect
As of 5.24.08, the current working program surrounding LifeTrac is: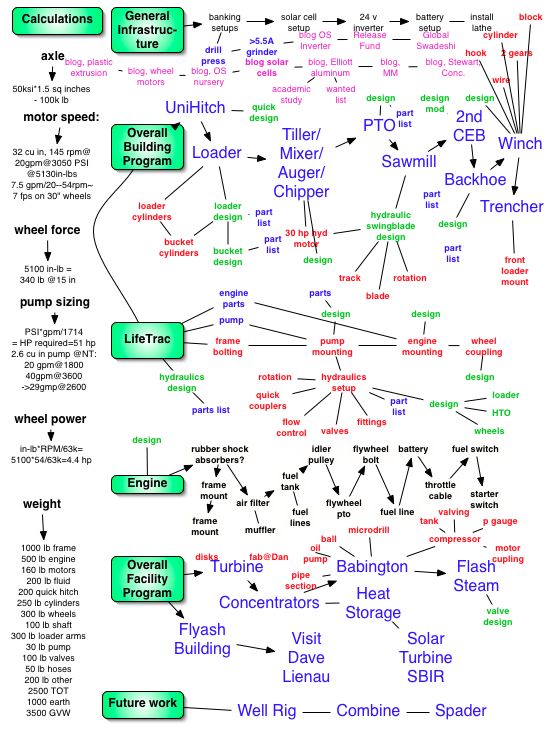 Cost Comparisons to Industrial Counterparts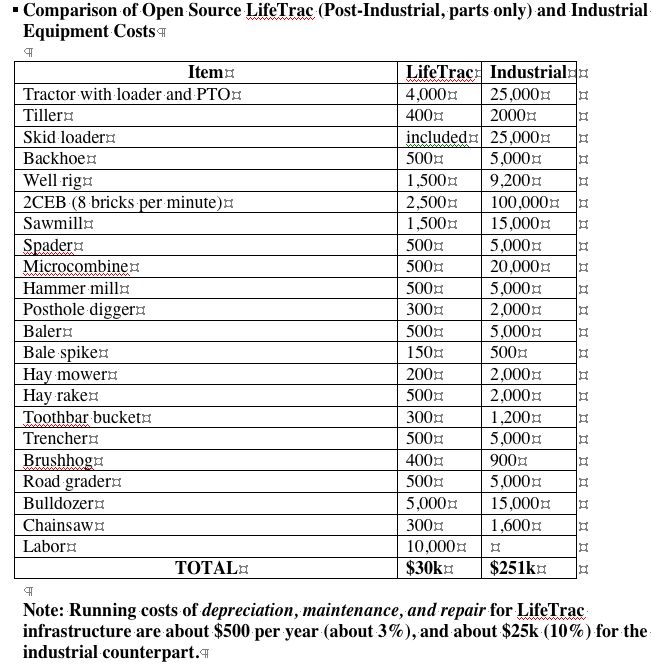 NOTE: Industrial prices are taken largely from Northern Tool catologue - [2] - your local, global supply chain.
Commercial hydraulic rotary well drilling rig quote - [3]
Note: Tractor and Bulldozer add up to $9k, for an infrastructure that shares wheel motors, controls, and Power Cubes. Power Cubes are $1750 each for 27 hp using off-shelf components. For about 100 hp of drive, this is $7k.
Note: Since Power Cubes are not included here, the real cost of the package should be closer to $40k for the GVCS implementation prior to the ability to melt steel into virgin metal. This ability, combined with advanced CNC machining, will bring the cost down to about $5000 for 50,000 lbs of steel obtained from scrap sources.
Note: Each device takes on average 1 week to fabricate after optimization to digital fabrication. This implies a total labor time of about 20 weeks for the devices above, or only $15/hour at the labor cost given. This may be acceptable for DIY value, but is a low rate for market production.
Maintenance
Yearly maintenance costs designed to be no more than $100 with heavy duty usage
What are the key points in a maintenance check?
What are the skill sets required to perform a systems check accurately?
Bill of Materials for Industrial Counterparts
One tire and rim - a flat proof one - costs $500 for skid loaders - [4]. Compare to $5 used truck tires with $35 for open source chains - under $50 for a tire. The latter affords the same traction, at 10-100 times less cost, depending if you count the chains or not.

Which is more cost effective over a lifetime?
Design
The concept was inspired initially by CADTrac, a set of plans that you can buy:

But it is redesigned thoroughly by enlarging the size and making construction simpler, to fulfill OSE Specifications for Post-Scarcity Economics.
Industry Standards
| Industry Standard | LifeTrac |
| --- | --- |
ISO 26322-1:2008 Tractors for agriculture and forestry -- Safety -- Part 1: Standard tractors. Specifies general safety requirements and their verification for the design and construction of standard tractors used in agriculture and forestry. These tractors have at least two axles for pneumatic‑tyred wheels, with the smallest track gauge of the rear axle exceeding 1 150 mm, or tracks instead of wheels, with their unballasted tractor mass being greater than 600 kg.
ISO 730-1:1994 Agricultural wheeled tractors -- Rear-mounted three-point linkage -- Part 1: Categories 1, 2, 3 and 4. Describes the dimensions and requirements of the three-point linkage for the attachment of implements or equipment to the rear of agricultural wheeled tractors. Specifies four categories to be used on different ranges of agricultural tractors.
Loader Arms
Funding
Wanted: List of expenses for prototyping and documenting LifeTrac
Peer Reviews
Wanted: Peer reviews from the scientific community regarding the R&D of LifeTrac
Experiments and Prototypes
Wanted: Empirical data on performance
Experimental Results
Prototype Notes, Observations, etc.
Failure Mode Analysis
Testing Results
Recommendations for Improvement
New loader arms: done 12/21/11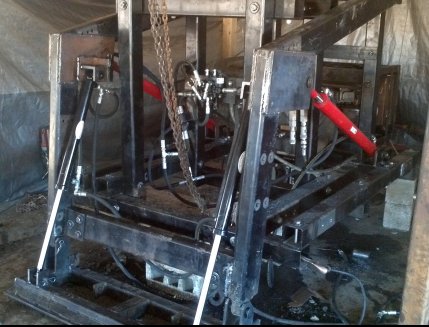 Quick attach wheel 12/23/11:
Based on this forum exchange perhaps the LifeTrac could get a righteous set of proper tank treads. Take away the 4 hub motors and convert the wheels into idlers. Install new (bigger) motors on the rear pillar. Install sprockets on the new motors. Make longer metal tracks that go around the two tires and one sprocket (on each side). Now you've got something that maximizes the useful torque and grip available in the design. A company called ASM has this steel chain sprocket that fully engages every link and actually looks simpler than a normal sprocket.
I'm not sure what the math is on this idea.
See Also